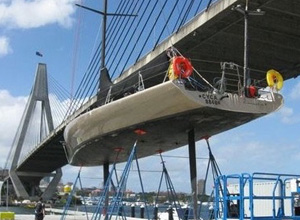 Over 50 years ago, David "Fred" Brownell revolutionized the way that boats were stored with his invention of the Brownell Boat Stand. Since then, our boat stand system has been proven to be the fastest, safest and most reliable way to store boats out of the water. It is the unique design of Brownell Boat Stands that allows boat yards to be able to store more boats per square foot, allowing them to maximize space and increase revenue.
When not in use, the unique stacking and nesting design of the Brownell Boat Stands allows them to be neatly stored without taking up a lot of space. Today, it is possible to see the eye-catching blue and orange products of Brownell Boat Stands at professional boat yards and marinas all over the world.
---
Why Choose Brownell
Since 1954, the Brownell name has been synonymous with quality and reliability. We are also known for our innovations and top notch customer service. We take a lot of pride in the products that we create, and to ensure quality, all of our products and components are made in house by skilled American craftsmen right here in the USA.
Brownell Boat Stands are known by professionals all over the world for being the best quality ever made. We only use American tubular steel, which has earned a reputation for being the most durable steel available. Compared to other types of steel, which can vary widely in quality and are more susceptible to rust, American tubular steel is by far the best.
Brownell Boat Stands: Today and Tomorrow

The current owner of Brownell Boat Stands is Peter Kavanaugh, who purchased the company in March 2009 from Linda Brownell, who is the daughter of the founder, David "Fred" Brownell.

Under new ownership, the company has continued the traditions of Brownell integrity:

Always treat our customers with the respect that they deserve.
Deliver the highest quality for the best value.
Use only American steel
Use only American workers.
Always be innovative with new and better products.

Today, Brownell Boat Stands continues to grow the world over utilizing these essential principles. Brownell Boat Stands continues to develop and introduce new products, such as engine handling equipment and boat lifting systems to help improve efficiency within the marine industry. While many manufacturers have chosen to go off-shore, Brownell Boat Stands is committed to continue manufacturing high quality products right here in the United States.
Designed for Quality
Since Brownell invented the boat stand, all of the products that we design and manufacture are made with the goal of making boat handling more efficient. This is just one of the many reasons why Brownell Boat Stands are known by professionals all around the world to be the best quality ever made.
Some of the features that have helped us to earn a trusted reputation for quality include:
sizes to fit virtually ANY boat
lifetime warranty
allows for storage of more boats in the yard than any other boat stand system
solid steel, ACME threaded adjustable rod
superior welded construction
stacking and nesting design for storage when not in use
hot dip galvanized or dipped in paint for extra protection
independently tested and have a certified safe working load of 20,000 pounds / 9,100 kgs
To learn more about our wide range of products, including fold-able sailboat stands, motorboat stands, keel stands, boat dollies, boat lifting systems, trailer components, adjustable trailer pads, trailer wedge stands and pads, engine racks for marine engines and, of course, our well-known Brownell Boat Stands, contact us at our Mattapoisett, MA location. Give us a call Toll-Free in the United States or Canada at 1-800-533-8433, or by calling 508-758-3671.