Yacht Stands & Keel Support: Protect the Hull of Your Sailboat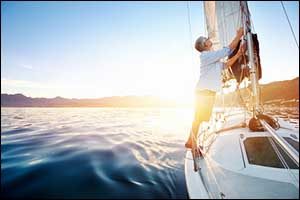 There are a lot of things to learn and maintain when you own a boat. New boat owners may feel challenged when it comes time to choose a boat stand system that provides proper keel support and protection for the hull. Sailboat jack stands, yacht stands and other top quality Brownell Boat Stands can be used to keep your boat safe when it is out of the water. You can visit our website to view the user manual for the Brownell Boat Stand System, which can be used with sailboats and other vessels that have keel construction.
How Many Stands?
Our team of experts recommends that you have at least six stands for your vessel. Choose a boat stand based upon the size, weight and type of boat that you own. To provide proper protection for your boat, start by placing the stands at an even distance apart from each other along the boat. You will need an extra set of boat stands for stability if your boat still has its rigging on.
Large keep support stands should be used below the front and back of the keel construction. Check to make sure that the base is stable enough for the boat. It is a good idea to use a small piece of plywood underneath each leg of the yacht stands and keel support, to prevent it from sinking. Even if the ground doesn't appear to be loose, it's always a good idea to err on the side of caution. Choose a boat stand system from the Boat Stand Selector on our website.
Security & Stability
Once the boat is safely on the stands and keel support, you can turn the boat stand until it points to the centerline of the boat. Sailboat jack stands should be placed with the adjustment screw in a straight 90 degree angle toward the hull of the boat. In the small groove, place the security chain and tighten it gently by pulling the stand backwards. If you have one pair of your boat stands facing the keel or if your boat has a long keel, you can pull the security chain below the keel and then up on the other side.
If you need extra stability at the bow, choose a boat stand that has a V-top from our product line. It is important that you never tie the cover to the stand. In heavy winds, both will be pulled away, which could topple the boat and cause serious damage. The number of stands that you will use, including yacht stands, sailboat jack stands, and keel support will be based upon the overall length of your vessel. This is why it is important to work with a professional to determine the best type and amount of stands for your boat, or to use our online Boat Stand Selector.
Basic Boat Stand Suggestions
While we highly recommend that you either speak with a representative or use our online Boat Stand Selector, the following information reflects the basic boat stand suggestions based upon the length of the vessel. Remember, sailboats and motor boats are quite different from each other in the type of protection that they need. That being said, make sure you choose a boat stand set-up based upon the specific needs and requirements of your vessel.
Vessels that are 30 feet or under – six stands
Vessels that are 30-40 feet – seven to nine stands
Vessels that are 40-55 feet – nine to eleven stands
Vessels that are 55 feet or more – 13 stands (or more)
There are currently eight different sizes of boat stands available in varying types, including sailboat jack stands, yacht stands, keel support, and others. Visit the Brownell Boat Stand System website to choose a boat stand based upon the size and type of vessel that you own. If you would like to speak with a representative, you can contact us by calling 508-758-3671. We can help you choose a boat stand or provide you with information about an authorized Brownell Boat Stands dealer that is in your area.