Work Smarter, Not Harder: Use the Brownell Boat Stand System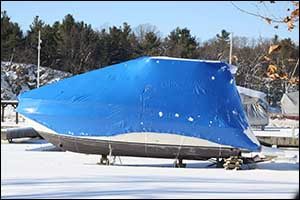 Whether you own and operate a boatyard, own a boat, or have anything to do with the marine industry, you know that a lot of hard work is involved in the ongoing maintenance, repair, and storage of vessels both large and small. It is essential that you have the right tools and equipment so you can get the job done without throwing out your back or causing any damage to the boat. Commercial quality tools are available as part of the Brownell Boat Stand System. They can be purchased in bulk for boatyards and marine industry businesses or bought according to needs for individual boat owners. Keel stands and benches, as well as nested boat stands or galvanized boat stands, depending on your needs, are designed to be used together to create a perfect system to provide support and stability to just about any vessel.
Why Choose Brownell?
There are several companies that produce boat stands and keel support on the market today. However, when you compare the materials used to make these products and the quality of the products themselves, there is no contest. Brownell uses solid steel, ACME threaded rods to ensure that our keel stands are durable and can be adjusted even under a tremendous load. Similar products made by other manufacturers have hollow shafts and poor quality threading that can bind and buckle under the weight of a vessel.
Brownell Boat Stands are the best-selling boat stands in the world and are preferred by professionals throughout the marine industry. All of our stands are made in the United States with American tubular steel. Many other brands use Asian steel, which varies widely in quality and is highly susceptible to rust. Their bases are made from angle iron, which is not as strong as American steel, which means it can be damaged easily. Even the handles and nuts that we use in our products are made of solid steel to provide superior strength. Our stands have a certified safe working load of 20,000 pounds and are either dipped in paint or hot-dip galvanized to offer excellent rust protection.
Why a System Matters
You might have visited a boatyard and seen other boats propped up on wooden pallets and other "junk" to keep them up off the ground. Why would you invest in the Brownell Boat Stand System? The truth is that many boat owners and boatyards use basic non-marine items for boat storage, but this practice could cause damage to these vessels in a number of ways. Our system of painted or galvanized boat stands and keel stands and benches are designed to help provide support for the weight of your vessel and stability while it is out of the water. For boatyards, Brownell products provide superior storage opportunities to your clients, while making the work easier for you and your crew.
Our keel stands are a very fast, labor-saving alternative to wood blocks and other items that are commonly used in boatyards to provide support. They are much faster to install compared to moving around heavy blocks of wood to position them under the keel. Brownell keel stands and benches are made in the USA of 100 percent American tubular steel. They are adjustable, which means that you won't have to use shims to ensure a proper fit between different vessels. Our products are designed to last for many years, providing you the maximum return on your investment, as they will not deteriorate like wood.
How to Choose the Right Products
Our nested boat stands can be easily stacked and stored with a small footprint, providing boatyards with the opportunity to have a lot of our galvanized boat stands, keel stands and benches on-site without cluttering up the property or garage. To determine the number of keel stands and benches required, it is recommended that a minimum of two are used per vessel and each stand is certified to support 10,000 pounds of vessel weight. So a vessel that weighs 35,000 pounds should have a minimum of four keel stands for best results. You can see a whole "Proper Use" guide on the Brownell website and can use the "Boat Stand Selector" tool to know the right number of boat stands required for stability.
If you are purchasing equipment from the Brownell Boat Stand System, either for your personal vessel or to be used at a professional marine facility, contact our team directly for more information. We can help you make smart choices that will reduce labor, improve support standards, and ensure safe storage opportunities. Give us a call at 508-758-3671 and speak with one of our agents or use our website tools to find an authorized dealer near you. Brownell's full line of top quality marine products is used all across the nation and around the globe, trusted by boat owners and industry professionals to provide dependable and long-lasting results.