Winter Sailing Precautions & Boat Stands for Off-Season Care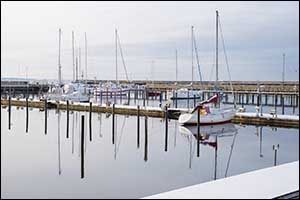 When you visit your sailboat at the local boatyard during the off-season, it can be tempting to want to take your vessel off the keel stands and foldable sailboat stands so you can get it out on the water. Sunny winter days are even more challenging, as it just feels as though spring is around the corner and the drive to get back "out there" is even more intense. Good winter weather is a very small window of opportunity, especially if you live in an area that gets a lot of snow, ice, and seasonal storms. If you are going to do this, you need to be ready to make the most out of your day on the water and be sure to take care of your boat when you return so it will be ready for your next excursion.
Indoor Storage Opportunities
One way to achieve this incredible off-season feat is to use indoor storage facilities, so you don't have to fully winterize your boat and it will be ready when the weather clears. However, indoor storage opportunities can be very pricey and difficult to get, especially if they are climate controlled, secure, and conveniently located near the water. Proper storage methods are still required, including an appropriate cover to prevent dirt, dust, and debris from collecting, and clean-up of the entire vessel inside and out to reduce the risk of mold, mildew, rot, and other seasonal damage. Use the boat stand selector tool on Brownell's www.boatstands.com website to learn how to choose a boat stand and keel support system for your vessel. This will help you to be ready when the opportunity arises to get your boat out on the water.
Consider Keeping Your Boat in the Water
Another method that might be available to you, depending on where you keep your boat, is to pull your vessel out for seasonal services, but keep it out on the water year-round. Check with local marinas to get the best options and deals on water storage for your sailboat. Ask about maintenance services that might be available to help keep your boat in tip-top shape and ready for a special outing on a particularly mild winter's day. If you live in a more temperate region, such as Southern California or South Florida, you will have many more opportunities for mid-winter boating than other areas. However, if snow and ice are common where you live, you may want to consult with an expert before deciding to keep your boat in the water year-round.
Rent a Boat for Winter Sailing
Even if you own your own boat, you might want to consider renting a boat for your winter sailing opportunities. Keep your vessel snug and "tucked in" for the season at your outdoor or indoor storage facility, while still getting out on the water is a definite win-win situation. Continue to check on and visit your boat at the storage facility, double-checking foldable sailboat stands and keel stands to ensure that they are effectively protecting your boat. However, if you want to get out on the water, check with local boat rental services that might have something available that is comparable. This is also an excellent opportunity to try out something different – who knows, you might even discover new modifications or options that you can apply to your vessel after an experience on a rental boat.
How to Choose a Boat Stand
When it comes to storing, repairing, maintaining, and painting your vessel, it is critical for you to choose the best possible support and stands while your boat is out of the water. The Brownell boat stand selector tool was designed to help individuals and professionals to determine the correct size, type, and the number of boat stands and keel stands required for a specific vessel. Sailboats, motorboats, personal watercraft, pontoon boats and other types of boats all have different needs. It is essential to understand that keel stands are designed for support, while boat stands are needed to provide balance. These tools all work together as part of the larger Brownell Boat Stand System to protect your boat on dry land. Whenever you have your boat out of the water, make sure to use top quality stackable or foldable sailboat stands and keel support to provide the ultimate stability and protection.
Are you interested in learning more about the Brownell Boat Stand System and our entire line of top quality marine equipment and accessories? Visit our website at www.boatstands.com or give us a call at 508-758-3671. Our team will be happy to answer any questions that you might have about our popular boat stands, keel stands, TLC boat pads, dollies, racks, staging ladders, and boat lifting systems, along with all of the other professional quality products. Made in the USA at our facility right here in Mattapoisett, Massachusetts, you can trust the Brownell name for your personal vessel or provide professional grade services to clients.