Winter Sailboat Storage Tips: The Brownell Boat Stand System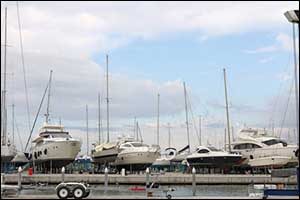 One of the most important pieces of equipment that a boat owner needs to properly store and protect a boat when stored ashore is the Brownell Boat Stand System. Boat stands, which are also known throughout the marine industry as poppets or jack stands, are key to safe storage of a winterized boat. The boat stand selector, now available on the Brownell website, can help sailboat, motor boat and personal watercraft owners know which stands are best for their exact type of vessel.
Brownell engine racks and boat lifting systems, as well as dollies and other essential tools, are also available to make winterizing, storing and working on boats an all-around safer experience. Stackable boat stands, available in galvanized or painted the traditional blue-and-orange, are available in a wide range of sizes and styles, making them suitable for just about any type of boat. Blocks and other accessories are also recommended and available for the proper storage of a boat on land, whether it is on a temporary or long-term basis.
Protecting Your Investment
When you choose to use products from the Brownell Boat Stand System, you are committing to providing your vessel with the very best tools and equipment to protect it during on-shore storage. Proper use of boat stands – and finding the right type of stands with our boat stand selector – will provide your vessel with the right amount of support in all of the right places, to prevent damage.
In most situations where damage occurs on land, it is due to improper use of boat stands, which can cause damage to the hull. In motorized vessels, engine alignment issues can occur if the boat is not properly stored. Brownell engine racks can help to protect engines while the boat is out of the water for an indefinite amount of time. To prevent any type of damage from occurring to your boat when it is on land, use the Brownell boat stand selector to get the right size, type and amount of boat stands and follow the directions for the Brownell Boat Stand System to maximize the protection provided.
Boat owners need to have a basic understanding of which type of boat stands are designed to be used with their type of vessel. Our boat stand selector can help, but it is important for you to know whether you need keel support, stackable sailboat stands, dollies, flat top stands or v-top stands. You should also know about pads, such as our TLC pads, and how they can be properly used with the Brownell Boat Stand System.
Creating a Storage Plan
The amount of time that you spend studying the different types of boat stands to determine what works best with your particular vessel should not go to waste. Once you have it down, create a plan for how it should be done so you can repeat the process more easily the next time you take your boat out of the water and put it into dry dock storage. When you shop around for boatyards to store your vessel, if you don't have private property where it can be kept, make sure that you will be able to use your own Brownell Boat Stand System and that you won't be required to use to equipment provided by the yard.
Jack stands are used to help stabilize the boat. However, most of the weight for the boat will typically rest on its keel. While some boats will have specific requirements regarding the support for the keel, others may not. Use the boat stand selector and provide as much information as possible to ensure a perfect fit.
It is important to check on your vessel in storage about two weeks after you place it there. The reason for this is that after two weeks, the boat stands and other storage equipment will have settled into place, so you can make sure that the jack stands are not depressing the hull. Make sure that the boat is stored in a level position to prevent issues with water, stains, and mildew. Learn all you can about boat lifting systems and Brownell engine racks, if these tools will be beneficial to the movement and storage of your vessel. Visit the Brownell website at www.boatstands.com or give us a call at 508-758-3671 to find an authorized dealer near you.