Why You Should Choose Brownell Boat Stands for Your Boatyard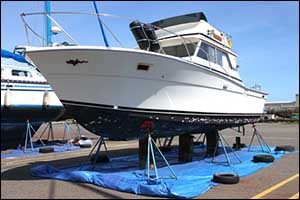 If you own or manage a boatyard, it is important to have all of the right tools and equipment necessary to provide the proper services to your customers. Top quality boat stands, engine handling equipment, and other essential tools are required to perform scheduled maintenance, properly store boats, and ensure quality repairs are completed. Brownell Boat Stands has been in business for over 50 years. We are proud to have earned a solid reputation within the marine industry for developing and manufacturing many different types of boat stands, all with the same adherence to quality and high standards. Our boat stands are made in the USA right here in Mattapoisett, Massachusetts by skilled American craftsmen to ensure the best possible results.
Our goals line up with your goals. We want to provide our customers with equipment that they can depend on day in and day out to get the job done right. Just like you, our name is our reputation, and we work hard to live up to expectations and exceed them whenever we get the chance. If you are looking for top quality boat stands, keel support, boat dollies, and other essential equipment for your boatyard, consider Brownell for all of your marine tool and equipment needs. We offer durable and innovative marine products for professional yards and individual boat owners. Our equipment can be purchased online through our website or at an authorized dealer near you.
Knowledge is Power
Because our team works in the marine industry, we understand what businesses that serve the marine industry require. We spend a lot of time on our website providing how-to videos, diagrams, instructions, and support. We work with each customer to provide them with the sizes and types of boat stands they require based on their needs. We also have a Boat Stand Selector tool on our website that can help customers get an idea of what they will need concerning the size, time, and the number of Brownell boat stands will be required for their vessel. Our boat stands have been independently tested and certified to have a safe working load of 20,000 pounds or 9,100 kilograms.
It is important to understand that boat stands are designed to balance your boat, while the actual weight of the vessel rests on the keel and is supported by keel stands, benches, or blocks. If you store a lot of large, wide keel boats with hollow keels that require protection, consider Brownell Boat Stands. We now sell keel benches in two different heights, including 16-inch and 28-inch. Both of these benches are 24-inches wide to make it easier for you to use. Instead of heavy wooden blocks, our keel stands, benches, and new galvanized steel blocks are a great alternative. The galvanized steel blocks are long-lasting, easy to use, and weigh just 33 pounds.
Each steel tube is load tested up to 40,000 pounds and is available in one size of 8 by 8 and has a length of 20-inches. However, if you prefer to use wooden blocks, we do sell them as well in 6 by 6, 8 by 8, and 12 by 12 options in lengths of 22-inches.
What's So Great About American Steel?
We do talk a lot about the materials used to make our top quality boat stands. Customers can choose from galvanized steel or our traditional blue painted finish to prevent corrosion and increase durability. Our keel stands are durable and can be safely adjusted under a tremendous load. Many of the other commercial stands on the market feature a hollow shaft and are made with poor threads that can bind. We use a solid steel, ACME threaded rod for our adjustable Brownell boat stands, and we also use high-quality American steel for all types of boat stands. This is why our stands are the best selling boat stands in the entire world and are even preferred and used by professionals.
Other brands use Asian steel, which can vary widely in quality and results. Asian steel is also more susceptible to rusting quickly, and bases that are made from iron cannot stand up to the punishment provided by marine industry work. At Brownell Boat Stands, we use a skilled American labor force that takes pride in its work. All of our stands are made from 100 percent American tubular steel. Our handles and nuts are also made of solid American steel to provide superior strength, function, and longevity. When plywood pads are selected instead of our TPE material TLC boat pads, we use marine grade plywood for exceptional performance. Our products are designed to be quick and easy to use, reduce time and labor, and provide top quality results.
Contact our team in Massachusetts by calling 508-758-3671. We can answer any questions that you might have about using Brownell boat stands at your boatyard or assist you in placing a direct order. We can also help you to find an authorized dealer near you and direct you to our demonstration videos, instructions, and other helpful materials. Call today and see for yourself why so many professionals trust Brownell for top quality boat stands and marine equipment.