Why You Should Buy a Pontoon and Made in America Boat Stands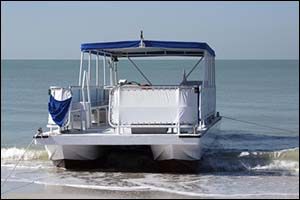 If you are thinking about buying a pontoon so you can get out and enjoy the water, you are on the right track. There are so many good reasons to invest in a pontoon even if you are not an expert on boats. They are lots of fun and easy to use. They are easy to get in and out of the water, and they are easy to maintain.
It is a good idea to invest in top quality boat stands and equipment for hauling and maintaining your pontoon. Brownell Boat Stands makes a steel pontoon boat dolly and has lots of different types of boat stands that can be used to help you when your boat is out of the water. Made in America boat stands that are designed to stand the test of time.
Great Choice for Families
If you have a family that wants to get out on the water with you, then a pontoon is a great choice. Other types of boats just don't provide the amount of space that you need when you have little kids out on the water. There is room for sitting, room for playing, room for eating, room for fishing and room for other on-the-water activities. Older children will enjoy it too, spending time with the family and bringing along some friends. The average pontoon boat can hold approximately 10 or more passengers, making it a great way to get the whole gang out on the water over the weekend or on a vacation trip.
Great for Fishing
Pontoons are also an excellent choice for fishing. Just move the boat with the steel pontoon boat dolly to your trailer and off you go. You can go fishing in rivers, lakes, ponds and the boat is much more stable than the typical fishing boat. This makes it great for little fishermen and also helps to not scare away the fish as much as a boat that goes deeper in the water. You can even get an enclosure so you can continue fishing even into the colder months while staying warm inside with the heater going. Plus, there's tons of storage space for all of your gear, room for bait and room to keep your catch.
Great for Busy Boaters
So you only have a day or two to get out there and enjoy the water. A pontoon is a great time saver. Unlike fiberglass boats that can easily become damaged, pontoons are made out of high quality aluminum materials. You can also just hose off the boat and get back on the road after a weekend out on the lake. With a pontoon, you don't have to worry about protecting a gel coat or a paint job like you would with other types of boats. When you use top quality boat stands and equipment, you know, Made in America boat stands and tools from Brownell Boat Stands, it becomes even easier to transport and maintain just about any type of vessel.
Great for the Long Haul
Another advantage to purchasing a pontoon is that they are long-lasting and extremely durable. After lasting through years of you and your family out on the water, all you need to do to spruce them up is maybe buy some new furniture and carpet to make it look like new. All of the products made for pontoons are one-size-fits-all, so there's no need to spend the off-season scouring the country for the perfect sized cushions and materials. Because a pontoon is a simple type of vessel, any repair work is simple too. Most pontoon owners keep their vessels for many, many years because they don't need to be upgraded. While there are newer models and some new bells and whistles in the pontoon world, most of the upgrades can be added to existing boats anyway without having to spend a whole lot of money.
Brownell Boat Stands, Dollies and More
If you do decide to invest in a pontoon or any other type of vessel, make sure to check out the different types of boat stands available from the original boat stand manufacturer at Brownell. The industry's top equipment consists of made in America boat stands, steel pontoon boat dolly equipment, TLC pads, boat racks, and much more. Contact Brownell by calling 508-758-3671 to find an authorized dealer near you or to learn more about our catalog of fine products.