Why Use Marine Industry Stands? The Brownell Boat Stand System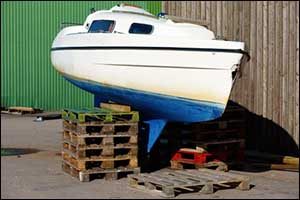 If you look around at your local boatyard, you will likely see some very creative tools being used for boat storage. Unfortunately, in spite of being creative, most of these methods will ultimately fail the boat owner in one way or another. It is important to know where to buy boat stands, what type of marine industry stands are best for your vessel, and how to use the Brownell Boat Stand System properly.
Unlike other knock-offs and homemade boat stands, our system is designed to perfectly balance and support your vessel while it is out of the water. It can be used for off-season storage, support during maintenance and painting, or for use when cleaning and preparing a boat for storage. Before you choose a boat stand or just grab some bricks or blocks to use as a support for your boat, take some time to research the Brownell Boat Stand System and see why it is worth the investment.
Supporting the Weight of Your Boat
Contrary to popular thought, boat stands are not what supports the weight of your vessel. In fact, keel stands, benches, and blocks are the tools used to support your boat's weight. Boat stands are used for balancing. The weight of the boat rests on its keep, and the stands are designed to ensure that the boat does not tip over while it is out of the water, protecting it from damage. All of our stands in the Brownell Boat Stand System have been independently tested and certified to be used with a safe working load of 20,000 pounds or 9,100 kilograms.
Keel stands are an excellent choice and a labor-saving alternative to wooden blocks. When you use a keel stand as part of the Brownell Boat Stand System, you will find that it is much faster to install than having to move around a bunch of heavy wooden blocks into position. Our keel stands are adjustable, so shims are not required for proper support. All of our keel stands and benches are made with 100 percent American tubular steel right here in the USA. They are designed to provide long-lasting support for many years and will not deteriorate like wooden or concrete cinder blocks. You can use our Boat Stand Selector to choose a boat stand that is right for the make, model, and year of your vessel.
Where to Buy Boat Stands
While there are many companies out there who also sell boat stands, only the Brownell Boat Stand System stands up to the test of time. In fact, our marine industry stands are the best selling stands in the whole world and are preferred by professionals. We use a solid steel ACME threaded rod, and all of our keel stands can be adjusted according to your needs, even under a tremendous load. Many of the other commercially available stands have a hollow shaft and poor threads that bind under the weight. Brownell stands can be purchased online, or you can find them at an authorized dealer near you.
Some of the other commercial brands use Asian steel, which varies widely in quality and is much more susceptible to rust in a short period of time. The bases that these companies use are made of angle iron, which is not as strong as the materials used by Brownell, which means they can become damaged easily. Our skilled team of American craftsmen takes pride in the work that they do. Even our handles and nuts are all made of solid American steel to provide superior strength and to prevent breakage. All of our quality marine industry stands are hot-dip galvanized or coated in our traditional blue paint for superior rust protection.
How to Use the Brownell Boat Stand System
It is important to take time to read your manufacturer's recommendations for using boat stands. If you cannot find the owner's manual or if the instructions are not clear, you can always choose a boat stand from our Boat Stand Selector on our website. The Brownell Boat Stand System includes a series of top quality boat stands, keel stands, and superior pads to provide comprehensive protection for your vessel. The number of keel stands, benches, and boat stands will vary, depending on the weight and length of your vessel. The industry standard is one keel stand for every 10,000 pounds (4,550 kilograms) of boat weight, with a minimum of two keel stands being used for each vessel.
The Brownell Boat Stand System also includes wood blocks for boat owners who prefer not to use keel stands and benches. To prevent all of the heavy lifting and time-consuming shifting, we now sell keel benches in two different heights and also sell galvanized steel blocks, which only weight 33 pounds (15 kilograms) each. Our 8-inch by 8-inch by 20-inch blocks have been load tested to 40,000 pounds or 18 tons. This is a great alternative for boat owners who have experienced splitting or rotting wood blocks. The tubular design of these blocks makes them easy to grip and carry around the boatyard, as needed. While we still recommend our top quality keel benches and stands, these galvanized steel blocks are an excellent alternative.
Visit the Brownell Boat Stand System website at www.boatstands.com or give us a call at 508-758-3671 to find an authorized dealer near you. Our team can answer any questions you might have about how to choose a boat stand or about our innovative marine industry stands.