Where is the Best Place to Store Your Boat Out of the Water?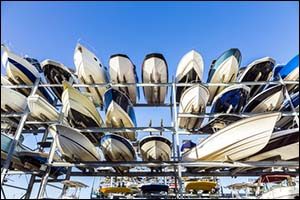 While it might seem to have an obvious answer, there isn't always an obvious solution to boat storage. If you are blessed with a large garage or have space on your property, then chances are all you need to do is look for an idea setting to keep your boat when you have it out of the water. However, if you don't have a garage or space, you might need to look for alternative options. Depending on the size and type of your boat, sailboat jack stands or traditional boat stands might be what is in order, as well as boat racks, boat dollies and other equipment used for maintenance and cleaning, such as staging ladders made from rugged tubular steel construction.
Trailering Your Boat
One option is to just keep your boat on a trailer. Make sure you have quality TLC trailer pads from Brownell to help protect your hull. You can keep it on the trailer in your driveway or backyard, maybe even your garage if you have enough space and clearance. It is perhaps the most cost-effective way to store your boat, so if you are on a budget – and what new boat owner isn't – this could be a viable solution. Make sure to use a boat cover to protect it from UV rays and take time to clean your vessel before you park it.
BONUS TIP – Before you haul your boat anywhere, make sure that your vehicle has the tow capacity to handle the extra weight. Read up on rules, tips and any other helpful instructions that will assist you to do it effectively. You always need to make sure that you have the appropriate boating equipment for the model that you are purchasing.
Storing on a Rack
Brownell also makes high quality boat racks that can be used to store a variety of boats. While not every vessel is ideal for rack storage, most smaller boats will do very well. Also known in the industry as "dry stacks," this is a very popular method for dry docking and storing your boat. You can also find storage facilities that offer dry stack storage. In some cases, they will put these racks inside of a shed or garage for extra protection from the sun and elements.
To get your boat out for use, just contact the boat yard ahead of time. They will use a forklift or boat lifting system to remove it from the rack and will have it ready for you at the requested time. When you come back they will return it to the storage area for you again. Make sure to understand the rules and keep the contact information for the boat yard with you at all times in case you decide to get your boat out at the spur of the moment to avoid any delays or issues.
Storing on Boat Stands
Another way to store your boat at a boat yard or even on your own property, if you have the room is to use boat stands. Brownell literally wrote the book on the modern boat stand, and has a wide range of stands and tools that you can use to move, repair, store and otherwise work on your boat. From staging ladders to boat dollies, high quality TLC pads, sailboat jack stands to stackable boat stands, and just about anything else you might require.
Just make sure that no matter where you store your boat, that you have access to it any time you want, that you are able to do repairs or clean your boat on-site, and that there is some coverage or protection from the elements. Many boat owners who use sailboat jack stands or boat stands for their storage option, also use boat covers to protect the upholstery and finish of the boat from the damaging UV rays.
Brownell Boat Stands
If you are looking for high quality equipment that you can trust, consider Brownell Boat Stands. We have earned a solid reputation within the marine industry and are known by professionals all over the world for providing the best quality boat stands ever made. Choose from our traditional blue painted finish or anodized sailboat jack stands, boat dollies, staging ladders and more to store, protect and work on your boat. Give us a call at 508-758-3671 to find an authorized Brownell Boat Stands dealer near you.