Where and How Will You Store Your New Motor Boat This Year?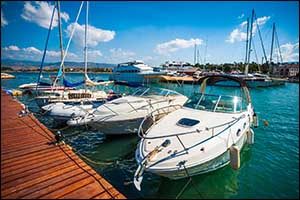 Questions about boat storage can be exhausting, especially for new boat owners. Right now all you care about is getting your new boat out on the water so you can enjoy your investment. You don't want to think about off-season storage when the season hasn't even begun yet in some parts of the country. However, this is the perfect time to think about everything from storing your boat on motorboat stands or boat racks, how to use boat dollies for maintenance and repairs, and whether you need engine racks for marine engines, either for maintenance work or for off-season storage. While everyone else is busy prepping their boats to get out on the water, you should be contacting local boat yards and storage centers to make sure you reserve a spot to safely store your boat during the winter.
The Advantage of Boat Yard Storage
When it comes to finding the best place to keep your boat while it is out of the water, some boat owners have a garage or shelter on their property that will become home to their boat during the off-season. However, most of us are busy looking for the best boatyard or storage facility that will allow us to safely store our boats until we are ready to use them again next spring. Some storages allow indoor or outdoor space where Brownell motorboat stands and keel support can be used to effectively protect a vessel during the winter months. Other opportunities provide the use of boat racks, where your boat will be lifted onto a rack for off-season storage.
Either way, make sure that you choose a reputable boat yard that is either near your home of the marina where you prefer to launch your boat for the season. You want it to be convenient enough for you to check on your boat during the winter, stop by to perform winterizing or de-winterizing maintenance services, and prepare your boat for use again in the spring. You also want it to be close to the water so you won't have to go a long way just to launch your boat. Finding a facility that has availability for new customers and that meets your budget constraints is also essential. Don't give up! There are lots of great boatyards out there for the taking, you just need to know what you want and not settle for something you don't.
Storage Tips for Year-Round Protection
If you've got a good trailer for your boat, make sure to upgrade it with TLC boat pads and other custom options so you can use it to store your small to medium sized boat during the spring, summer, and winter season. Your boat will be "ready to go" whenever you are, as long as you have a safe and approved place to park it. Don't risk your boat and trailer getting towed by parking it in an unauthorized parking space near your home. Only use trailer storage if you've got a garage, driveway or backyard where it can be covered and parked when not in use.
Dry rack storage is another great way to store your boat when you aren't using it. Not only will it protect your boat from damage throughout the year, but it can be accessed easily by the boatyard whenever you need it. Just contact the yard ahead of time to have your boat brought down from the boat racks and placed on your trailer for transportation to the water. Another option is the use of a boat lift, which can be purchased and used for boat owners who live near waterfront property or used at a marina where you are a member to haul your boat out of the water when not in use. A wet dock or "slip" can also help you to maximize your time out on the water during the season without having to haul it around or put it in and out of the water.
Winter Covers for Motor Boats
You have likely seen other boat owners in your area using blue tarps or custom covers to protect their boats during the winter months. Whether up on boat racks, motorboat stands or stored indoors at a facility, it is a good idea to protect your boat from temperature and weather conditions to prevent weathering and other types of seasonal damage. Canvas and frame covers help to allow "breathing" to prevent excess moisture from causing mold or mildew damage inside of your boat. Custom boat covers, either from the manufacturer or made specifically for the make, model, and size of your motorboat can also be used.
Shrink wrapping can be obtained through most reputable boatyards. Don't try to apply this product yourself unless you have a lot of experience using it. Contact your local boat yard or storage facility to ask about shrink wrapping options for boats stored on boat racks, boat dollies, trailers, and motorboat stands, depending on your needs. If none of these options are available to you or within your price range, at least use a plastic tarp and check on your vessel throughout the winter season. Make sure to tie the tarp down properly and provide for good air flow to prevent moisture and mildew.
Contact Brownell for Motorboat Stands
If you are interested in purchasing motorboat stands, boat racks for multiple boats, or need boat dollies for year-round maintenance and repairs, make sure to check out Brownell. We also sell a wide range of engine racks for marine engines, allowing safe maintenance and storage without concerns about damage while out of the water. Visit our website at www.boatstands.com or give us a call at 508-758-3671 to speak with one of our representatives about your needs.