What is Involved in Preparing a Pontoon Boat for the Winter?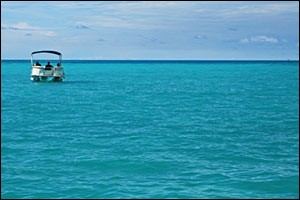 We read a lot of articles about winterizing a motorboat or sailboat to get them ready for the winter season, but what we don't read a lot about is how to prepare your pontoon boat for the winter months. Pontoon boats have become more popular in recent years. They are affordable as a starter boat and are just a lot of fun out on the water. As a result of the recent increase in popularity, it is more important now than ever to share information about how to take care of your pontoon boat year round.
It is extremely important to know what needs to be done to protect your pontoon boat for the winter. Not only will preparing it in the fall when you put it away make sure that it is ready to go in the spring when you take it out again to enjoy, but it will also help to protect your investment. If you are not familiar with winterizing your pontoon boat, or any other type of care for your boat for that matter, it is highly recommended that you hire a professional service. Whether you do the work yourself or hire a pro, make sure that you use top quality boatstands from the Brownell boat stand system.
Why Choose Brownell
When it comes time to choose a boat stand, many boat owners trust the Brownell name. In addition to making stands for sailboats and motorboats, Brownell also makes a steel pontoon boat dolly and stands that can be used to protect your pontoon that are part of the Brownell boat stand system. When your boat is out of the water, you need to protect the hull and there's no better way to do that than with top quality boatstands.
Once your boat is out of the water, make sure to clean it thoroughly before you put it away for the winter. Choose a reputable and quality boat yard to store your boat, choosing an indoor storage whenever possible. Make sure that the boat yard will allow you to clean and maintain your boat on site so you won't have to haul the boat somewhere else to do the work and then bring it back for storage. The boat should be cleaned inside and out, removing any barnacles from the exterior and any dirt or debris from the interior.
BONUS TIP – Make sure to pay special attention to certain areas of your pontoon boat, such as vinyl, carpet and teak surfaces, which can breed mildew over the winter months, especially if the boat is covered throughout the season. All surfaces should be cleaned completely and must be allowed to dry before they can be stored.
Remove Belongings from the Boat
Before you place your boat on a steel pontoon boat dolly and take it to be stored on the Brownell boat stand system, make sure to take all of your belongings and equipment out of the boat. Everything should be cleared out before you place the boat onto boatstands at the boat storage yard. If you need help to choose a boat stand style or type with your pontoon boat, make sure to speak with a Brownell employee or talk with someone at the manufacturer's office for your boat.
Check for your flotation devices, extra towels, any fishing equipment, tubes, skis, wakeboards and other items that belong on your boat during the season, but that should be removed when your boat is not in use. Consider renting storage space near your boat yard to keep all of your things safe, clean and ready to use again when you remove your pontoon boat from the boatstands and get it back out into the water in the spring. Make sure all of your equipment is dry as well, as this equipment can cause mold or mildew to grow over the winter as well if it is not properly and thoroughly dry.
Choose Brownell for Your Pontoon Boat
When it comes time to choose a boat stand, make sure to consider the Brownell boat stand system. Brownell has built a solid reputation for boatstands and their steel pontoon boat dolly is superior to other brands. Just make sure that you have enough boatstands to help protect and support the hull. Taking the time to winterize your boat before putting it into storage for the season will help protect it against common issues seen in pontoon boats and other types of recreational boats during storage. Contact Brownell boat stands at +1-508-758-3671 to find out which products will work best for your boat.