What is a Personal Watercraft? Boat Racks, Trailers & Towing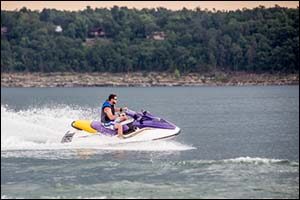 There are a lot of different types of vessels that people use each and every day to have fun out on the water. A personal watercraft is a type of vessel that you either sit on or stand on in order to operate. They are often used in conjunction with larger boats, either for cruising or water skiing. They can be towed on personal watercraft dolly or using trailer components, and they can also be stored on boat racks made in America from the team at Brownell boat stands.
Who Can Ride a Personal Watercraft?
Despite the fact that we see a lot of young people using personal watercraft out on the water, it is important to realize that these are not toys. The United States Coast Guard classifies personal watercraft vehicles as a Class A inboard boat, which pertains to boats less than sixteen feet in length. Both the operator and the craft itself, must comply with all state and federal requirements. The vessel must be registered and needs to have an identification number. The registration and validation sticker must both be displayed on the vessel.
There are different regulations, depending on the state, as to the minimum age of the operator. Some states say fourteen, while others say fifteen or sixteen. All operators need to complete a boating safety course and in some states they also need to get an operator's certificate. Because each state is different, don't just assume that it's okay to ride a personal watercraft or allow your teenager to operate a personal watercraft. Additionally, some states and even local areas within states, may also have regulations regarding the hours, speed limits and areas of operation that are permitted.
Hauling Your Personal Watercraft
To move your personal watercraft from place to place, you will need a trailer. To protect your vessel, make sure that you stay within the capacity guidelines of the trailer. Consider all of the trailer components and, for moving your watercraft around for cleaning and repair, consider getting a specialized personal watercraft dolly. Whether you store your personal watercraft at home in a garage or a shed, or if you pay to have it stored at a local boat yard, make sure that it is stored safely on appropriate boat racks. Brownell has a wide range of personal watercraft stands, racks and dollys that are all Made in America and designed to protect your vessel.
Some things to check before leaving home with your personal watercraft include:
trailer components and tires for signs of wear and tear
ensure main nuts and lug nuts are tightened effectively
check for wear and cracks on the stops, rollers and bunks
make sure that you use the right size of coupler and ball
check the wheel bearings to ensure they are properly greased
use extra tie downs on the bow and stern of your personal watercraft to ensure that it is secured properly to the trailer
make sure your vehicle is able to brake with the full load attached
always carry emergency supplies, such as an extra mounted tire, road flares, extra bulbs, basic tools, grease, bearings and anything else you might possibly require
Safety Items for Your Personal Watercraft
When you see someone out riding a personal watercraft, you don't often think about safety gear, as you would on a motor boat or sailboat. However, the law does require that all Class A inboard craft must carry safety items with them at all times. Those items include a Coast Guard approved personal flotation device for each person that is on board. Check to ensure that you have the right type of safety device, not just what you see others wearing, as they might not be using the proper type. A portable B-1 type fire extinguisher that is fully charged and an efficient whistle or horn that can be used for warning or signaling other boaters, must also be on board. A helmet, wet suit and goggles are optional, but should be worn in some situations.
It's not enough to own a personal watercraft and understand about hauling it, the various trailer components, use of boat racks and having a personal watercraft dolly made in America that can be used for maintenance and repairs, but you also need to read your personal watercraft owner's manual, which contains some excellent information that could help you. In fact, you should carry this manual in your vessel, along with your boating safety course certificate, local water charts, a small waterproof first-aid kit and some basic emergency repair supplies that could help you in a bind. You should also have a tow rope, a telescoping oar, in case your engine goes out or you run out of gas, a one-gallon fuel can, and a distress signal, such as a signaling mirror or a flare.
Contact Brownell for Personal Watercraft Gear
If you are interested in learning more about our full line of made in America products that can be used with personal watercraft, such as trailer components, pads, boat racks and personal watercraft dolly, give us a call at 508-758-3671. We can help you find an authorized dealer near you or answer any questions that you might have about any of our fine products.