What Are the Best Finishes for Boat Stands Made in the USA?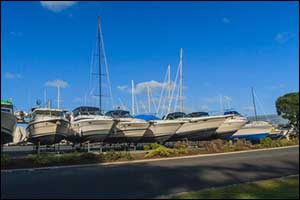 Brownell has built a solid reputation for making some of the best quality, independently certified boat stands in the world. Customers can choose from two different finishes, depending on their needs and budget. A hot dip galvanized finish is available on our popular galvanized boat stands; however, our trademark finish is a traditional blue-painted finish with a bright orange top. All of our products are made in New England, one of the few boat stands made in the USA using durable American steel. Constructed by skilled craftsmen, our mission is to ensure consistency and control in every product that we make.
Galvanized vs. Painted
So when it comes down to choosing which boat stands would be best for your needs, the only thing left to decide is whether you want our painted or galvanized boat stands for your vessel. If you aren't sure what size you need, you can use the online Boat Stand Selector or contact our offices in Mattapoisett, Massachusetts. We can also give you information on authorized dealers near you no matter where you are anywhere in the world.
Hot Dip Galvanized Finish – By far the most common method of galvanization used in the United States, this process involves the application of a protective zinc coating to either iron or steel. This coating prevents corrosion and rust from forming. In the hot dip galvanized finish process, the parts are submerged into a molten bath of liquid zinc for coating. This process makes these independently certified boat stands an excellent choice for boats that are being used in or near saltwater. It is important to understand that salt water is extremely corrosive and it will ultimately cause damage to the galvanized boat stands in spite of the coating.
Painted Finish – One of the best finishes available for boat stands made in the USA is the traditional painted. While technology has advanced, so far nothing has beaten the protection provided by the traditional blue paint to prevent corrosion when used for protecting freshwater boats. It is easy to spot out Brownell boat stands – just look for the traditional blue painted base with the bright orange pad on the top. If your boat isn't going to be used in saltwater, the traditional painted version of these independently certified boat stands will be just fine.
Brownell Boat Stands
When you purchase boat stands made in the USA from Brownell, you will get a top quality, solid steel stand, which features an ACME threaded center rod. This design allows for a very smooth adjustment – even under a very heavy load. Many of our stands are stackable or foldable, providing boat owners with limited space a hard working tool that can be easily stowed away when not in use. Brownell has earned a solid reputation within the marine industry for providing top quality boat stands that are designed and built to last for many years to come.
Brownell takes pride in the products created at our New England facility. We are also known for our industry innovations and for providing top quality customer service. All of the products that we create are designed and made right here in the USA. We use only all-American tubular steel, which has an industry-wide reputation for being one of the best quality steels ever made. Compared to other types of steel, it is less susceptible to rust and more consistent, providing long-lasting durability in both the hot dip galvanized finish and the traditional blue-painted variety.
Contact Brownell for Independently Certified Boat Stands
If you are in the market for quality boat stands for sailboats, motorboats, pontoons, or even personal watercraft, contact Brownell direct by calling 508-758-3671. We have a broad range of different sizes, and types of boat stands, ranging from the stackable and foldable sailboat and motorboat stands, TLC boat pads, boat racks, boat dollies, staging ladders, boat lifting systems, engine handling products, shrink wrap accessories, and much more. You can also use our boat stand selector online to determine the type and number of painted or galvanized boat stands required for your vessel. Our team can help you locate an authorized dealer near you or can answer any questions that you might have about our quality boat stands made in the USA.