Using the Brownell Boat Stand System for Sailboat Maintenance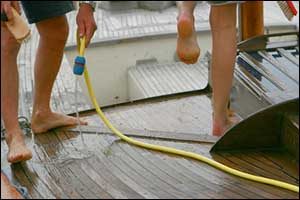 Boat ownership is a very popular hobby all over the globe. Many different activities can be done when you own a boat, such as fishing, sailing, water-skiing, and exploring. Ongoing maintenance and care are important responsibilities for boat owners. Even if you live in an area where boating is a year-round experience, you will still need to haul your boat out of the water occasionally to perform maintenance. For this purpose, the Brownell Boat Stand System includes a variety of sizes of yacht stands, keel support, and other boat stands for sailboats.
Choose the right size and number of stands, based upon the make, model, and year of your vessel. You can use the online Boat Stand Selector tool via the Brownell website or speak with an authorized dealer near you to find the best solution.
While it is easier to hire a service to take care of regular maintenance and cleaning for you, many boat owners enjoy working on their boats. However, the sooner you get the work done, the sooner you will be able to get out on the water. There is something satisfying about doing the work yourself, especially when it comes to ensuring that your boat will be looking great and functioning properly for many years to come. Below is a guide to the basic care that is required for the average boat. Consult with your owner's manual for specific cleaning and maintenance to ensure the best results.
Cleaning: Outside and In
One of the best things that you can do to keep your boat in tip-top shape is to keep it clean. Daily cleaning after use is essential, removing any trash or debris to prevent it from getting into the water. Keeping the hull of your boat clean can also prevent the spread of non-native species from one body of water to the next. The best boat cleaning will occur on dry land using special boat stands for sailboats and keel support to protect your vessel. Make sure to use the proper cleaning fluids and methods to protect the materials used to build your boat. Each type of finish and material will require different techniques and products, so it pays to take time to read the manufacturer's recommendations.
Use biodegradable detergents and other environmentally-safe products, such as borax, baking soda, and vinegar. Avoid things like bleach, ammonia, and lye. Make sure to rinse off the boat with fresh water to remove any corrosive material build-up, including salt in saltwater areas. Clean the engine as well, using a wire brush whenever possible to reduce the need for harsh chemicals and products. All other gear should be cleaned as well, including your boat trailer, cooling system, fishing gear, and recreational equipment. The Brownell Boat Stand System has a variety of yacht stands and stackable options that you can use to protect your boat when it is out of the water. Create a cleaning checklist so you won't forget something important whenever you clean your boat after use.
Storage Preparation
Another time when cleaning and maintenance are critical is when you are preparing your boat for storage. Whether storage occurs during the winter months or just for a time period when you won't be using your boat, it pays to go through all of the steps necessary to protect your vessel. If you have a motor for your sailboat, make sure to properly clean and maintain the engine and store it according to the manufacturer's recommendations. Proper use of boat stands for sailboats is essential during this transition. Some boat owners will store their boats using the Brownell Boat Stand System. Make sure to follow our online guide for proper use of keel support, yacht stands, and other elements for best results.
Everything must be checked before storage, but especially during the cold winter months. Winterization process is required to prevent fluids from freezing and causing damage while your boat is in storage. Everything from hoses to spark plugs, fuel filters and fuel lines should be properly cleaned, cared for, and stored. Once again, creating a checklist can be extremely helpful, ensuring that you don't miss an important step in the process. Once you have winterized or stored your boat a few times, it will get easier and go much faster. If you are short on time but want to make sure everything is done properly, consider outsourcing the work to a licensed and experienced service in the local area. Some boat yards will even provide this service at an extra cost.
The Best Boat Stands Ever Made
If you are looking for boat stands for sailboats and need some excellent options, visit the Brownell Boat Stand System website at www.boatstands.com. Our online Boat Stand Selector tool can help you find all of the equipment you need to properly safeguard your boat when it is out of the water. Keel support, yacht stands, chains, wooden blocks, and more can all be ordered via our website or purchased at an authorized dealer near you. Give us a call at 508-758-3671 to learn more about Brownell boat stands or to locate a dealer in your area.