Types of Boat Stands: Where to Buy Boat Stands for Jet Skis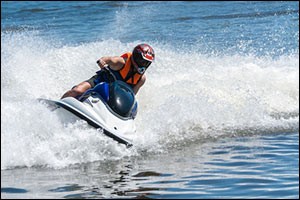 While it might seem like a silly concept to talk about getting boat stands for jet skis, the truth is that personal watercraft need to be protected just as much as other types of boats. Getting a personal watercraft dolly to help you move your jet ski around as you need to for cleaning, repairs and maintenance, can really help make it all a lot easier.
It doesn't matter where you live, there are certain times throughout the year when you will want to store your personal watercraft, either at a boat yard on a boat rack, or at home in a garage. There are different types of boat stands, some that are protected with thick paint and others that are protected with a hot dip galvanized finish. The best brand to trust with your personal watercraft is Brownell.
Why Boat Stands Are Best
While you could just leave your jet ski on a trailer or a personal watercraft dolly on the side of your house or in your driveway, the best thing for it is to keep inside a garage or at a professional storage facility. If you don't have room for it at home, make sure to find a safe place for it at a boat yard that you can trust.
Some local self-storage facilities will allow for inside storage of jet skis, but make sure to ask about any rules or restrictions before just storing it in there. Various types of boat stands can be used to help protect your investment while it is in storage. You can ask your dealer where to buy boat stands or contact Brownell direct for a list of dealers in your area.
Tips for Winterizing Your Jet Ski
Regardless of where you store your personal watercraft, make sure to take time to perform winterization checks and maintenance. These chores will help your jet ski to keep performing as it should when you are ready to use it again. Draining the fuel or using a fuel stabilizer, disconnecting the battery, servicing the engine and checking all of the fluids. Check with the boat yard or storage facility to find out if there are any other things you need to do to prepare the jet ski for storage.
The type of work that you need to do to prepare your jet ski for storage will depend on where you live, where it will be stored and if it will be inside or outside. Using your personal watercraft dolly, using the right types of boat stands and learning where to buy boat stands with a hot dip galvanized finish to protect it from the weather, will all help keep your investment safe over the winter months.
Hiring a Pro to Prepare Your Jet Ski
Did you know that you can hire a professional to take care of your personal watercraft and prepare it for the winter months? You can also hire a pro to get your jet ski ready for use again in the spring and summer, to make sure that it is in good working order. If you are storing your jet ski at a boat yard or another type of marine storage facility, you might be able to find professional help there that can take care of these tasks for you.
Working with a pro can be especially helpful if you don't know a lot about providing maintenance for a jet ski or if you need to know where to buy boat stands that you can use to store your personal watercraft when it is not in use. Professional assistance can also be beneficial if you do not have the time or the space to do the work for yourself. When you contract with a boat yard, ask about any extra services that they can provide for a fee. Many yards will do work for clients during the off season to make sure that everything is properly maintained.
Types of Boat Stands from Brownell
Check out all of the other options from Brownell, including high quality TLC boat pads, boat dollies, boat racks, staging ladders, boat lifting systems, engine handling products, trailer components, as well as other parts and accessories. Brownell has built a solid reputation for providing the finest top quality boat stands in the world. To find out more about our boat stands, visit our website or contact our customer service agents by calling us at +1-508-758-3671.