Travel the Distance: Big Road Trips With a Boat Trailer in Tow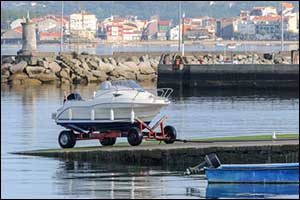 Taking an extended road trip with your boat can be a fun and exciting adventure. However, if you don't know what you are doing, it could become a nightmare. It pays to take time to learn the proper way to trailer a boat, practice loading and unloading, and study the rules of the road. The more prepared you are before you leave town, the easier the entire trip will be. Make sure you have the right equipment, including high-quality TLC boat pads, trailer wedge stands and pads, as well as adjustable trailer pads to protect your vessel. Marine industry stands can sometimes also be used for short-term storage on a trailer to prevent the boat from tipping while on dry land.
It doesn't matter if you have a brand new truck fully capable of pulling your boat and a brand new trailer designed just for your vessel, if you don't know what you are doing, problems could occur. Take the time to perform all services on your boat and on the vehicle that will be towing it to prevent a breakdown or costly repairs during your trip. Think about the type of terrain in which you will be traveling to ensure that your vehicle is truly up to the task. It might be just fine on flat roads and driving through prairies, but when you get to the hills and mountains, there could be an issue. Driving through hot regions, such as the desert, could also land you in trouble if your vehicle is not properly maintained and rated for such as task.
What is the True Weight of the Vessel?
Some boat owners make the mistake of using the manufacturer's posted weight of the vessel in their calculations for trailering. The weight that the manufacturer lists is the empty vessel when it is sold without fuel, without gear, without water in the tanks, and without any food and beverages stowed on board. What do you have on your boat? Coolers, fishing tackle, safety flotation devices, first aid supplies, fuel, and food all increase the weight of your vessel substantially. See if you can get an accurate weight of the vessel when it is fully loaded with all of your gear. You can save weight on the trip by waiting to top-off your water and fuel tanks at the lake. You can also reduce travel weight by waiting to shop for groceries until you reach your destination.
That being said, you also need to make sure that the weight is evenly distributed on both sides to prevent everything from shifting. Using high-quality TLC boat pads can protect your hull from damage during transportation, but you still need to be reasonable about the weight. Trailer wedge stands and pads are designed to protect your boat during transport and storage. However, all of your adjustable trailer pads must be installed and used properly for best results. The pads are the same TLC pads that are used on the Brownell marine industry stands, so they are designed for long-lasting performance and durability. Check the owner's manual for the boat and the trailer for tips on distributing the weight to prevent issues while on the road.
Safety Tips for Traveling
In addition to protecting your boat while on the trailer, there are other safety tips that you should follow. Increase visibility by adding round stick-on mirrors to your side-view mirrors to improve your view of the boat and trailer. Special mirrors are also available that are designed for this purpose. Make sure to have at least one spare tire pre-mounted and ready to go, along with any extra lug nuts and tools required to remove and replace them in a hurry. Extra bearings, seals, and a floor jack for the trailer will also be helpful for a quick tire change. You should also consider bringing along a can of inflatable tire sealant for temporary fixes of slow leaks. If you stop to get the tire replaced, advise the tire shop that you used the sealant.
Trailers that have brakes should be serviced before your trip, along with the brakes on your towing vehicle. When you brake with a full load, it puts an extra strain on your braking system. If it is nearing replacement time, this trip just might be the final straw. Other elements to have inspected and serviced include the transmission and cooling systems for the towing vehicle, just to provide you with peace of mind. This is especially helpful if you will be traveling through the rough or hot terrain. Stop and check your trailer's tires whenever you make a pit stop with the family. The more you check, the more confident you will feel throughout the trip. Also take a good look at the trailer itself, along with the tie-downs used for the boat to ensure that everything is still holding and in place.
Visit the Trailer Components page at the Brownell website at www.boatstands.com/product-category/trailer-components/. You will find options for trailer wedge stands and pads, adjustable trailer pads, high-quality TLC boat pads, and top-rated marine industry stands. Give us a call at 508-758-3671 to learn more about our products for motorboats, sailboats, and personal watercraft or to find an authorized dealer near you.