Trailer Tips: How to Use Brownell Trailer Wedge Stands & Pads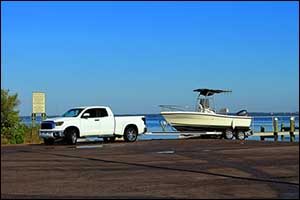 To save money, a lot of boat owners are learning to winterize, trailer, and store their own boats. This is not a bad idea. In fact, if you are fully in control of your boat at all times, you can rest assured that it is in good hands. The Brownell Boat Stand System can help you take care of your boat when it is out of the water. For storage, our boat stands, keel support, and pads will provide support and stability. For transportation, our trailer wedge stands and pads, as well as other trailer components, can be used to provide safe travel.
All of our products use American tubular steel construction, manufactured by experienced craftsmen in our Massachusetts facility. You can count on Brownell products to provide top quality support and stability for your vessel. Even if you store your boat at the marina when not in-use, there may be times when you need to take it out for maintenance or repairs. Painting your boat, cleaning your boat, removing barnacles, and performing other repairs, should be done on land. Trailer components can help you customize the moving experience, along with trailer wedge stands and pads.
Getting a Boat On a Trailer
If you are trying to get your boat on a trailer from the water, it is important to have an understanding of how it all works. You will need someone to drive the rig to get it up to the water, and someone to operate the boat to get it into place. Get everyone else off of the boat while you are trying to get it on the trailer. This is for safety and to make it easier to pull the boat up out of the water. Most boats can be floated up onto the trailer without any extra help. However, larger vessels may require more effort. Once the boat is on the trailer and properly secured, the driver should slowly pull up the ramp, raising the outboard or sterndrive, as required. The driver can then pull the boat up and out of the loading zone.
Getting a Boat Off a Trailer
Once you are finished performing repairs or are just ready to use your boat, you need to know how to get the boat off the trailer properly. It is possible to launch a boat by yourself, but it takes a bit of practice. Until you are comfortable doing this on your own, make sure you have someone there to help you. Decide who will drive the rig and who will operate the boat. Be considerate of everyone else at the boat ramp and wait for your turn. Pull to the side and prepare everything for launch, so you don't get in the way of someone who is already ready to launch. Go through your checklist and make sure that your helper knows what they need to do before you back down the ramp.
Trailer Wedge Stands
There are a couple of different trailer components and tools that you can use to further protect your boat. The Brownell Boat Stand System is more than just equipment that can be used to store your vessel. Our trailer wedge stands and pads are made of high quality American tubular steel construction and can provide you with quality protection. For example, the Brownell Wedge Stand (W2G) features a hot dip galvanized finish for long-lasting durability and has two usable positions. It also includes our adjustable ACME steel threaded rods so you can customize it according to your needs. The wedge stands are designed to be mounted to a cross member, bolted to a trailer frame, or even fastened to a wooden beam. The goal is to help boat owners build a custom cradle on their own trailer.
Trailer Pads
Another popular component available through the Brownell Boat Stand System is our adjustable trailer pads. Available in a painted blue top finish or our TLC pad series, the Brownell Adjustable Trailer Pads are designed for use in building trailers. There are some situations where a custom solution is the best fit, depending on the size, make, and model of the vessel. The pads have the same strength of our boat stand screw tops, and they can be inserted into the upright tubing on cradles and trailers. Secure transportation is achieved by the locking set screw. Any of our trailer wedge stands and pads or other trailer components can be ordered with a TLC pad in place of the standard plywood pad.
All of our products are 100 percent made in the USA. Our standard trailer pads are made from 3/4-inch marine grade plywood. They are rated to 25,000 pounds and feature a solid American tubular steel construction rod that is ACME threaded and adjustable under load. It also features an unthreaded end for safety and adapters are available for multiple sizes. The Brownell Boat Stand System and all of our trailer components have a solid reputation within the marine industry. Used by professionals all over the globe, we are proud to sell the best quality boat stands, trailer wedge stands, and pads and marine products ever made. Our trailer pads are designed to work with our boat stands to provide quality protection and coverage during storage or transportation.
Contact Brownell direct by calling 508-758-3671 to find an authorized dealer near you. You can also visit the Brownell website at www.boatstands.com to view our full line of boat stands, trailer wedge stands and pads, and other trailer components. Proudly made in the USA at our Mattapoisett, MA facility.