Trailer Components & Pads: Hire a Pro to Transport Your Boat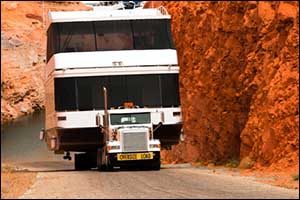 Most sites that talk about boating and boat equipment will discuss tips and methods that will make it easier and safer for you to trailer your own boat. But what if someone else will be transporting your boat for you? There are certain situations where you might want to hire a professional to transport your vessel from point A to point B, such as purchasing a brand new boat from another state, getting your boat repaired, or taking your boat with you when you go on a big vacation across the country. Whatever your reasons, you need to decide how you will move your boat.
If you are short on time and cannot do it yourself, that's a great reason to hire a professional. You just want to make sure you are hiring a reputable individual or company that will take good care of your "baby" when it is out of your sight. A pro that takes all of the precautions, from using quality trailer components, adjustable trailer pads, and of course, Brownell trailer wedge stands and pads, can be a big sign that you are working with the right service. You want to take your time a choose a transportation company the way you would take the time and care to choose a boat stand to support your boat's hull when out of the water.
Step One: Don't Panic
Transporting your boat on land and trusting it to a professional service does not have to be a situation of epic proportions. It is possible to find a transporter that has all of the qualifications that you desire to get the job done right.
Step Two: Start Getting Referrals
Ask around the marina. The chances are good that some of your boating buddies will have used a transportation service at some point or another. Boat owners like to share information, such as what products they use to for winterizing, which trailer components are the most reliable, and who they would trust to transport their own boat.
Step Three: Check Qualifications
In addition to reputation, experience and knowledge are also important. Working with a licensed boat transporter is even better. If none of the referrals that you received checked out, you can start looking for boat transporters in the area where your boat is located by checking out the Yellow Pages listings, ask the marine facilities where the boat is docked, check with the Better Business Bureau, or even do a search online. The boat transporter you choose should be licensed and have references that you can call to verify experience.
A good boat transporter will be able to answer any questions you have about:
the proper weight distribution of the boat on the trailer between the hull and the keel
use of adjustable trailer pads, trailer wedge stands and pads to stabilize the weight of the boat, not to carry the weight of the boat
how to safely secure the boat to the trailer to prevent shifting
understanding of boat transportation as "specialty freight."
check for items that can commonly come loose during transportation, such as antennas, buoys, canvas, and dock lines, as well as how to secure them the right way
how to properly raise the outboard or outdrive to ensure that it is not sitting too low for transportation to prevent damage during travel
Other Things to Ask
Once you have found the professional boat transporter that you think you want to hire, there are still more questions that you can and should ask before signing any agreements or contracts for hire. Ask about the type of trailer that will be used. Again, just as you would take care to choose a boat stand that is right for your vessel, you need to know that the transportation company or individual will choose a trailer, trailer components and use the right trailer wedge stands and pads for the job. For example, lowboy trailers are for boats 40-feet and over, bunk trailers are typically customized for individual boats, and hydraulic trailers, which can carry a wide variety of different types and sizes of boats. Hydraulic trailers are self-loading and unloading, which means that they can be picked up and set back down again without the use of a crane, in most situations.
A transporter that is "intrastate" will only be able to move your boat within that state. An "interstate" carrier will be able to transport your boat across state lines. Each transporter should have a US DOT (Department of Transportation) number and be specifically "authorized for hire." A professional will have a commercial insurance policy that includes liability and "broad form cargo" insurance, which is what will cover your boat in the event of an incident. Coverage should be at a greater level than the total value of your vessel.
Trust Brownell for Boat Equipment
Whether you hire a pro for transportation and storage of your boat out of the water or you do it yourself, you can trust Brownell products and equipment. We can help you choose a boat stand and find the best place to buy all of the trailer components, adjustable trailer pads, trailer wedge stands and pads, engine handling equipment, and other tools you need to get the job done right. Give us a call at 508-758-3671 to find an authorized dealer near you. Make sure to use our online Boat Stand Selector to choose a boat stand that is right for your vessel.