Trailer Components, Care & Storage Ideas for a Vacation Boat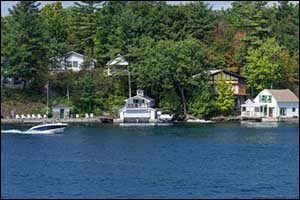 Having a vacation home can be an excellent way to get the whole family together for a few weeks each year to enjoy a place that you all love. Whether that home is near the ocean, on a lake, or next to a river, there can be lots of reasons to also have a vacation boat. Sailboats, motorboats, pontoons, and personal watercraft, whatever you enjoy using out on the water also needs to be cared for and stored when not in-use, much the way that you button down your vacation home when you are away. It helps to have a plan and know how you want to protect your vacation boat and home during the off-season.
Equipment is required to transport your boat to and from the water, or bring it with you from your home location, as well as to store the vessel when it is not being used. Boat lifting systems are great for any boat that is too heavy to lift or move on your own. Trailer components can help make trailering a lot easier and are great if you do a lot of transportation from one location to another. Trailer wedge stands and pads will help to protect your boat while out on the road and high quality TLC boat pads can be used with the Brownell Boat Stand System to protect your boat in storage.
Choosing a Storage Solution
Depending on where your vacation home is located, you may have multiple options for boat storage solutions. Boatyards, marinas, storage facilities, your own garage or even a dock in front of your own home – it all depends on where your vacation home is, the type of weather that they get, and how protected your boat will be in that location. A mountain resort on a lake is beautiful in summer, but by winter that lake could be frozen and cause damage to your boat. A gorgeous beach property on the coast could be the setting for your vacation home, but being in the direct path of hurricanes during storm season might cause you to think twice about keeping it in the water or storing it on-site.
However you decide to store your boat, make sure you are using the right type of boat stands and high quality TLC boat pads to protect your boat when it is out of the water. Boat lifting systems should be designed to handle the weight and type of vessel that you own. If you aren't sure what type of boat stands you need to properly support and care for your boat when it is out of the water, visit the Brownell website at www.boatstands.com and use our online Boat Stand Selector tool. Based on the make, model and size of the boat that you own, this tool can help you make sure you have enough boat stands and tools to keep your boat safe when it is in storage.
Transporting Your Boat
If you decide to keep your boat with you instead of leaving it at the vacation home, you will want to make sure that you have the right type of trailer and trailer components. Even if you pay someone else to transport your boat from point A to point B, you will want to make sure that they are licensed, certified, and insured to transport your type and size of the vessel. You will also want to provide or ensure that they are using high quality adjustable trailer pads to protect the hull. Brownell trailer wedge stands and pads can be purchased locally at an authorized dealer by you and are designed to work with the Brownell Boat Stand System, including trailer components and other essential moving and storage equipment.
The Brownell Boat Stand System
All of the products designed by Brownell are made with the singular goal of improving efficiency with regard to boat handling and storage. We have worked hard to earn a solid reputation for providing the best quality boat stands and equipment to professionals and boat owners all over the world. We have sizes to fit virtually any boat, include a lifetime warranty, provide options to store more boats in a yard than any other boat stand system, and use a superior welded construction of solid American steel, ACME threaded adjustable rod with stacking and nesting features for storage when not in use. All of our boat stands are independently tested and have a certified safe working load of 20,000 pounds.
For boat lifting systems, adjustable trailer pads – including trailer wedge stands and pads – high quality TLC boat pads, trailer components and anything else you need to handle and store your boat, you can visit our website or give us a call at 508-758-3671. We can answer your questions and provide you with contact information for an authorized dealer near you.