Top Summer Care Tips to Reduce End-of-Season Cleaning Issues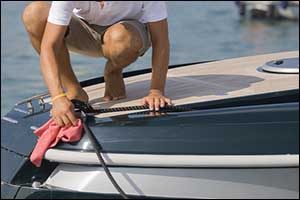 After a fun day out on the water, probably the last thing you're going to want to do is spend time cleaning your boat. But the truth is, the more you do each time you go out on your boat, the less work you'll have to do at the end-of-the-season when you put your boat in storage for the winter. If you take a few minutes to provide preventive care throughout the summer season, it will go a long way toward protecting your boat and making it easier to clean later. If you use your boat in saltwater, you will need to provide basic clean-up every single time you go out to sea. However, even if you only use your boat in fresh water, it's a good idea to spend some time keeping everything in pristine condition.
Whether you use your boat for fishing or just cruising the harbor, make sure that you check the manufacturer's recommendations for cleaning to ensure that you use the right products and methods. For deep cleanings out of the water, make sure to use the Brownell boat stands, boat lifting systems, and our high quality TLC boat pads to protect your vessel and make it easier to get to all those hard-to-reach spots. Our line of galvanized boat stands is designed to stand up to even the harshest environments and provide long-lasting strength and durability. Make sure to check out the entire Brownell Boat Stand System to keep your boat safe while out of the water.
Tip #1 – Waxing the Boat
One of the best ways to protect the hull is to wax it regularly. If you've had your boat in the water for awhile or plan on storing it for a few weeks or months, make sure to wash and wax the hull before you put it into dry storage. It is important to choose a non-toxic cleaner that is designed for use with boats. Apply it to your wet boat with a soft scrub brush or sponge, depending on your manufacturer's recommendations. Rinse it off with fresh, clean water and then dry the hull completely. Choose a quality, non-toxic brand of gel coat or fiberglass wax and apply it according to the product directions. Waxing the hull will protect the surface from dust, dirt, and grime from becoming ingrained in the material. The more you wax your hull, the less you will need to do any heavy scrubbing to wash it again in the future.
Tip #2 – Protect the Upholstery
One of the most frequently damaged areas of any boat is the vinyl upholstery. Make sure to take time to protect it from the elements whenever you get the chance. Wipe away any salt residue, dirt, or grime and then apply a vinyl protectant. If you do not have a boat cover that you use to protect the deck and upholstered areas, at least consider getting upholstery covers to protect everything from stains, weathering, and other types of damage while it is not in use. The more you can do to protect your upholstery, the longer it will last and the fewer issues you will have with having to make costly repairs and replacements.
Tip #3 – Reduce Water Spots
Make sure to find out if your boat was built with plexiglass or glass before purchasing windshield and window cleaners. Once you know what you have, you can purchase a water repellent to use that will prevent water spots from forming. If they are not taken care of right away, water spots can lead to etching, which will damage your windshield and windows. Double-check before using any product on your windshield or any part of your boat for that matter to make sure it won't cause any issues.
Tip #4 – Clean the Deck
You should at least rinse the deck every time you use your boat. This will prevent the build-up of dirt, grime, and spray, which could end up costing you a whole day in scrubbing the deck in the future. If any spills occur, clean them up as they occur. For fishing boats, make sure to do an extra good job of rinsing off the deck to remove any bait, fish guts, or debris before it dries. Once all of that dries on your deck, it will take more than a little elbow grease to get it off completely. For more thorough jobs, rinse the deck first and then use an appropriate cleaner based on the type of deck that you have. Non-skid decks should be good with a medium deck brush and some basic boat soap. You don't ever want to use a cleaning product that has not been deemed safe for marine use.
Tip #5 – Be Consistent
The more consistent you are with care, the longer your boat will keep looking its very best. Use top rated products, from the cleaners that you choose to Brownell boat stands, boat lifting systems, and high quality TLC boat pads. You have invested a lot in your boat, and it is important to do everything you can to get the most out of your investment. You wouldn't want to plan a big week out on the water just to discover that damage occurred while your boat was in storage due to improper cleaning and protection. Don't ever miss a step and your boat will continue to provide you with great days out on the water for many years to come.
Interested in learning more about Brownell boat stands and products? Our traditional painted blue and galvanized boat stands are used by individuals and professionals for dry storage, maintenance, and repairs. Visit our website at www.boatstands.com or give us a call at 508-758-3671 to learn more about our products or to find an authorized dealer near you.