Top Quality Trailer Components: Boat Trailering for Beginners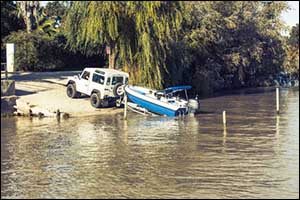 There are a lot of great advantages to trailering your boat. The most obvious is that you get to take your boat out to explore new waters. If you are a fisherman, that means getting out there to catch new species and have new fishing experiences. If you enjoy water sports, that means getting out to new lakes and rivers for some brand new fun. Whatever you use your boat for out on the water, it is important to take care of it when it is out of the water. Trailer components, boat racks, trailer wedge stands and pads – all of these things help to protect your vessel during storage, maintenance, and transportation. If you know where to buy boat stands made by Brownell, you can get all of these products and more in your local area.
What You Need to Know
If you are new to trailering, there are a few things that you need to know. First, you need to figure out if your vehicle has enough towing capacity to pull your boat. Most trucks and SUVs are designed to pull a moderately sized trailer, however, it pays to read the owner's manual and find out for sure. The average family care will not have enough tow capacity unless you are simply pulling a small, aluminum boat on a simple trailer.
When checking the manufacturer's recommendations you should note:
the dry weight of your boat, that means no gear and no fuel
add several hundred pounds to that dry weight for more accurate measurements
consider whether you can handle the boat at the ramp yourself or if you need help
boats larger than 25 feet will typically need at least two people to launch
gain a real understanding of tow capacity and take into account all of your passengers, gear, the boat itself, and the trailer, when doing the math
Prep Before Launch
So now that you've got it all worked out with regard to towing your vessel to the lake, river or marina, it is important to know all of the little details that need to be accomplished before you can launch. Forget just one of these things and you could end up having a really bad weekend. If you need to, make a list for yourself that you can check off as you complete each task. Some vessels will require additional checks outside of the basic list provided here. If there are additional things that you need to do to prepare your boat for launch, add them to your list.
Some of the things you need to check can include:
installing the drain plug
releasing the securing straps
disconnecting the trailer lights
rig up a line so your boat won't float away after it gets launched
make sure that the lower unit is raised so it won't scrape during the launch
check for overhead power lines if you have a mast
take a look at the ramp before backing, especially if you have never used it before
Launching Etiquette
Boat owners need to have respect for one another, especially when it comes to launching a boat. They can share lots of great information with each other about trailer components, recommendations for boat racks in storage, share where to buy boat stands, and even provide insight into the best trailer wedge stands and pads. However, this mutual respect is best seen and appreciated at the launch ramp. When you get there, don't just plow your way in and launch your vessel. If there are already other boaters there who are launching or leaving, you need to wait your turn. Pay attention to the flow of traffic. When it is your turn, be ready to go quickly, as there are likely other boaters still waiting for their turn.
Brownell Trailer Components
The most important thing to remember when trailering or storing a boat is safety. Safety for you, for others, and for your vessel. Brownell trailer components are all made right here in the USA and they are sold all over the globe. Check out our full line of trailer wedge stands and pads in our classic blue and orange or galvanized coating design. If you know where to buy boat stands and boat racks in your local area, you'll be able to find the Brownell Boat Stand System in your local area. Or you can give us a call at 508-758-3671 to find an authorized dealer in your area.