Top Quality Boat Stands: Safety & Sailing Tips for Beginners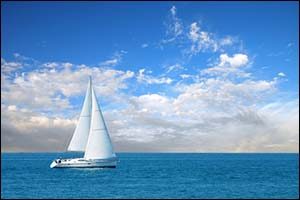 When it comes to sailing, we all start off as beginners without a clue. Even if you have studied sailing for a few years before getting out on the water, there is much to be learned that can only be learned when you actually get on a boat. Knowledge of all the tools and equipment that you will need to provide proper care for your new vessel is essential. Sailboat stands, sailboat jack stands and other types of boat stands for sailboats must be used. Top quality boat stands from Brownell, the leading manufacturer of boat stands in the United States and around the world, is the way to go for the best results.
Where to Learn
The best place to learn as a novice is in calm waters. Choose a spot that isn't very crowded so you can master the basics of sailing. Practicing in ideal conditions, which includes light winds and very low traffic, is one of the most important tips you can ever get for learning how to sail. Whether your goal is to learn how to sail a large vessel or if you just purchased a small boat, your best bet is to begin your instruction using a dinghy or another vessel that is small, responsive and easy to maneuver. Boats that only have a few lines and sails are even better.
Before You Start
Just like learning how to use a sailboat stand or other top quality boat stands, the first thing you should learn is safety. Safety for you, your passengers, your vessel and other people out on the water is of the utmost importance. Safe sailing is key no matter what your level of experience, education and training might be. To be a safe sailor means to follow the basic rules of safe sailing each and every time you go out on the water.
tell someone that you are going out on the water and where you will be going
always wear a life vest and use other important safety gear
bring along a flotation device and make sure you have advanced swimming skills
check weather conditions, including the tide and wind
prepare for the weather that is expected by bringing appropriate gear and provisions
make sure you are familiar with sail control to take advantage of condition changes
practice capsizing so you'll know what to do if it happens to you for real
Other Tips to Remember
There is a lot to learn about sailing, including choosing the best sailboat jack stands and other types of boat stands for sailboats. While it might seem like a lot to learn before you even get out on the water, make sure to spend some time learning the basic sailing terms. This will help you more than you realize. Know the difference between the port and the starboard, as well as other essential sailing and boating vocabulary.
Consider hiring a professional to help you learn the basics of sailing. It doesn't hurt to invest a little time and money in hiring an instructor to go out with you on the water. In fact, working with a pro can help you learn the difference between cheap and top quality boat stands, which can be used to protect your investment and keep it safe while out of the water.
One tips that is incredibly important that many instructors forget to mention is that you need to have respect for the boom. In fact, one of the most common injuries faced by beginners to sailing is a bump to the head – or worse – that comes from the boom swinging. You can also get knocked overboard by the boom, so it is important for you to pay attention to it and speak with your passengers and other crew members about being aware of where the boom is at all times during your trip out on the water.
Brownell Boat Stands for Sailboats
New boat owners should check out the options for sailboat stands and sailboat jack stands from Brownell. We have a wide range of top quality boat stands for sailboats, motor boats, yachts and other types of vessels. Boat stands for sailboats are extremely important to protect the hull when the vessel is out of the water. To learn more about our boat stands and other essential marine tools and equipment, visit our website at Boatstands.com or give us a call at 508-758-3671 to find an authorized dealer near you.