Top Quality Boat Stands: Choosing a Place to Store Your Boat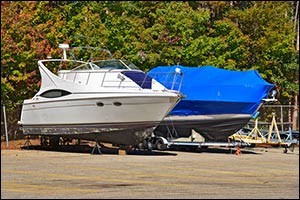 When it comes to taking your boat out of the water, whether it is to put it away for the winter or to do repair and maintenance work on it, it is important to choose the best possible boatyard in your area. How do you find a good boatyard, a place you can trust to store your boat while it is ashore? This article will feature some tips on how you can protect your boat while you are storing or working on it through the use of top quality boat stands, how to choose a boat stand for your vessel from a selection of different types of boat stands, as well as how to find a good boatyard that you can trust to take care of your baby.
What Are You Going to Do?
The first thing to do is to identify what it is that you want from a boatyard. Do you want to do some basic maintenance on your vessel or do you need a lot of extensive work done to get your boat back into tip top shape? Are you looking for a place to put it into storage? Will it be stored in a place that gets freezing winter temperatures or more of a moderate, tropical winter? You need to think about what your goals are, what you hope to use the boatyard storage for and how long you will be storing your vessel. The answers to these questions will help you make an informed decision based upon your goals and needs.
Some boatyards have rules about what can be done in storage, including:
the work that is done on the boat and who is doing the work
allowing third party contractors to work on boats while in their storage
possible fees associated with allowing contractors or boat owners to work on the vessel while it is in storage
the types of boat stands that can be used on the premises
whether additional insurance is required for doing work on the premises
specialty services offerings through the boatyard, such as skills regarding repairs to fiberglass, wood or even restoring vintage boats
indoor or outdoor storage, as well as the type of wrapping that they do for winter
If you have any specific ideas or requirements as to how you would want your boat stored, repaired, maintained or cared for while it is out of the water, you will also want to take them into consideration when choosing a boatyard. For example, a yard that only uses top quality boat stands from Brownell might be a huge selling point, due to the design, purpose and protection offered by these stands that are made in America from durable American steel.
Common Types of Boatyards
When you start to shop around for a boatyard, make sure to consider that there are three primary types of boatyards to choose from: a basic yard that allows anyone to work on the boats whenever they please; a maintenance yard that does its own in-house work for clients or has working relationships with third party contractors in the area; a restrictive yard that is only for storage purposes that does not allow any work to be done. Once again, this makes identifying the purpose of finding a boatyard based upon your needs and desires very helpful in choosing the right boatyard for you and your vessel.
In addition to the different types of boatyards, each yard will also have a varying degree of security with regard to the storage. For example, a yard that allows anyone to come in and work on their boats will have less security than a yard that restricts work or only allows work to be done by in-house employees. If you are looking for a high security yard or don't mind paying for indoor storage space that is temperature controlled, those are extras that you will want to ask about when you are out shopping around. Again, make sure that the facility allows you to choose a boat stand that you are comfortable with or that uses the types of boat stands and storage equipment that you trust to protect your investment.
Why Choose Brownell Boat Stands?
Once you have chosen a boatyard for your repairs, maintenance or storage, it is important to ensure that only top quality boat stands are used to protect your vessel while it is out of the water. The mark of a high quality boatyard is the use of professional equipment, such as Brownell boat stands, which are made in America by experienced craftsmen and designers to properly support and store your sailboat, motor boat or personal watercraft for any length of time. Because there are many different types of boat stands designed for different types of boats and different types of storage, it is important to choose a boat stand that is right for you and your boat.
Speak with the boatyard owner or operator about the types of boat stands that are available on site. If you are storing your vessel at home in an indoor, temperature controlled environment, make sure that you choose a boat stand that you can depend on all year round to provide you with trusted support. Check out other options from Brownell as well, including high quality TLC boat pads, boat dollies, boat racks, staging ladders, boat lifting systems, engine handling products, trailer components, as well as other parts and accessories. Brownell has built a solid reputation for providing the finest top quality boat stands in the world. To find out more about our boat stands, visit our website or contact our customer service agents by calling us in Mattapoisett, Massachusetts at +1-508-758-3671.