Top Quality Boat Dollies & Equipment for Personal Watercraft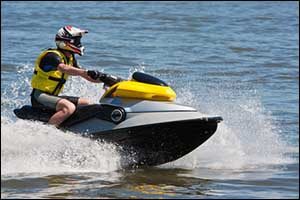 When you invest in any type of vessel, it is important to make sure that you do everything you can to properly care for and maintain it to help keep it working and looking its best. A personal watercraft or PWC is classified as any type of water scooter or jetski. Also sometimes known as a "boater-cycle," these vehicles allow the rider to either sit or stand while navigating about the water instead of sitting inside, as they would with a boat. Typically for one or two riders, there are certain maintenance requirements for personal watercraft that should be adhered to in order to keep the vessel working properly.
These motorized vessels allow the rider to race, do tricks, and explore lakes, rivers, and larger bodies of water with ease. The most common brand names of PWC include Sea-Doo, WaveRunner, and Jet Ski. While the one or two rider vessels are the most common, some are available that will seat three or four riders as well. By classification, a personal watercraft is a jet drive boat that is less than 13 feet in length. While it may not make sense to store or maintain a PWC using conventional top quality boat stands or even stackable boat stands, you can quickly and easily store it and maintain it while using a personal watercraft dolly.
Where to Get Quality Equipment
Brownell, the leading manufacturer of marine boat stands, also sells a personal watercraft dolly made from American tubular steel construction that can be used for your PWC. Smaller than other types of boat dollies, Brownell Adjustable Boat Dollies are designed to be heavy duty and can be used just about anywhere you need them, from boat shows to garages, workshops to production facilities, while looking nice enough even to be used in a showroom. With non-marking wheels and the Brownell adjustable screw pads just like the ones used on professional Brownell Boat Stands, this personal watercraft dolly is just what you need to properly store, repair, maintain, and maneuver your PWC out of the water.
While not available online through the Brownell website, you can contact our office in Mattapoisett, MA by calling 508-758-3671 to find an authorized dealer near you. If there aren't any in your area, there are authorized dealers who will sell the equipment, including all sorts of top quality boat stands, stackable boat stands, and personal watercraft dolly equipment online. You can also use our online Boat Stand Selector to find equipment and tools for other vessels, including sailboats, yachts, motorboats, and pontoons.
Why Quality Matters
When it comes to protecting your personal watercraft, it is important to choose quality equipment that you can depend on to properly support and handle your PWC. Poorly made products can result in cracks and other damage to your vessel during maintenance, repairs, as well as short and long-term storage. Our SCD-1 is the Small Craft Dolly, which has been designed to help PWC owners easily transfer smaller craft like personal watercraft, dinghies, and other small boats. The frame can be easily adjusted, and our heavy-duty American tubular steel construction can support up to 2,000 pounds. It is protected for long-lasting durability with our traditional painted blue finish.
Our reputation within the marine industry is known by professionals and individual boat and PWC owners alike. It extends all over the world due to the top quality boat stands, stackable boat stands, TLC boat stands, and personal watercraft dolly equipment that we manufacture. Our adjustable boat dollies are designed to integrate and work with all of our other top of the line products to create a trusted and unbeatable combination that will protect and support your PWC or another small craft vessel. So whether you are storing your PWC, providing seasonal maintenance, making repairs to damage or displaying it in a showroom, you can count on the personal watercraft dolly from Brownell to keep it safe and secure.
Brownell Top Quality Boat Stands
If you are interested in learning more about the Brownell Boat Stand System and our 100 percent American tubular steel construction, give us a call at 508-758-3671. Our friendly staff can help you to find an authorized dealer near you and assist you in locating the best options for top quality boat stands, stackable boat stands, and accessories for any type of vessel. You can even use our online Boat Stand Selector to choose the best stands, racks, and dollies to protect your motorboat, sailboat, or personal watercraft vessel.