Top Causes of Boat Damage in America (and How to Prevent It)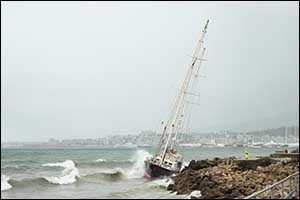 Studies conducted by insurance companies reveal that there are five primary causes of boat damage in the United States. Learning how to avoid these types of situations can save boat owners thousands of dollars, as well as ensure that their boat will be ready to get out on the water without delay. The more you can do to protect your vessel in and out of the water, the safer it will be. While accidents do happen even to the most careful boat owner and operator, prevention plays a big part in reducing damage. Adjustable trailer pads and foldable sailboat stands are great tools for transporting and storing your vessel. High quality TLC boat pads can further protect your boat from damage and vessel-specific options, such as a steel ponton boat dolly or small dolly for personal watercraft, are beneficial as well.
#1 – Submerged or Floating Objects
You're out on the water, having a wonderful day; when all of a sudden, your boat strikes something solid in the water. Submerged items, including rocks, tree trunks, sunken boats, and unknown sandbars can wreak havoc on your boat's hull. Floating objects can be dangerous as well, with many conditions "hiding" the object until it's too late. American insurance agencies estimate that more than 30 percent of all marine insurance losses were as a direct result of damage caused by a submerged or floating object.
#2 – Wind and Hail
The second most common cause of claims filed in the United States includes wind and hail damage. Storing your boat outdoors without any type of cover or protection is just asking for trouble, especially if the boatyard or marina you use is near an area where this type of weather is common. It doesn't even have to be the off-season for wind and hail to cause serious damage, as many claims are made in spring, summer, and fall. Make sure to protect your boat with a custom boat cover, shrink wrap application, or indoor storage facility for best results year-round.
#3 – Fixed Objects
The third most common type of accident that led to claims in the US was fixed objects. Docks, piers, buoys, and land masses are just some of the examples of fixed items that boat operators have struck or come in contact with in a motorboat or sailboat. Sometimes the wind and choppy waves can cause a boat to strike a dock, resulting in serious damage to the vessel.
#4 – Improper Storage
Another cause of marine vessel insurance claims is improper storage when the boat is out of the water. The Brownell Boat Stand System has an easy-to-use boat stand selector that will help you choose the best products for your vessel. Foldable sailboat stands, stackable motorboat stands, high quality TLC boat pads, and even specialized options, including a steel pontoon boat dolly, a variety of keel support equipment, and small dollies for personal watercraft are available. Make sure to use the right amount of stands and combinations recommended by the boat manufacturer or use at least the suggested number of stands on our boat stand selector tool for best results.
#5 – Transportation Issues
While some problems with transporting a boat have to deal with accidents on the highway, others are related directly to the way that the boat is placed on the trailer. Our adjustable trailer pads and high quality TLC boat pads can be used to protect the hull during transportation. We also have custom trailer kits and accessories that you can use to create a proper cradle for your boat to protect it while you move from storage to water or from one location to another. Make sure to take time to protect your boat using the recommended Brownell Boat Stand System equipment whether you are storing it, transporting it, or hauling it out of the water.
Why Choose Brownell Products
There are many reasons why individual boat owners and marine professionals choose Brownell products. We deliver the highest quality for the best value, always treating our customers with the respect that they deserve. We use only American tubular steel, and all of our products are manufactured in the USA by skilled American workers. We strive always to be innovative, developing new and better products for our customers. We continue to grow in popularity and reputation around the globe as we stand by our principles and goal to improve efficiency and safety within the marine industry.
If you are interested in purchasing Brownell products or would like to learn more about our adjustable trailer pads, high quality TLC boat pads, or motorboat and foldable sailboat stands, give us a call at 508-758-3671. We also have a lot of information on our website about keel support products, steel pontoon boat dolly options, and specialized accessories and equipment.