Top Boat Stands for Sailboats: Important Pre-Launch Checklist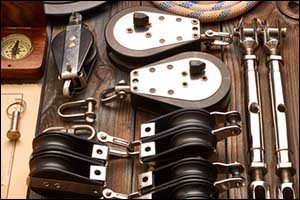 When you own a sailboat, certain things must be done to protect your investment. The more work that you put in before launch, the more time you will have to enjoy your boat while it is out on the water. Just as you shopped carefully for the right sailboat jack stands and yacht stands, you also need to make sure that regular maintenance is completed. Learn how to inspect your sailboat – and what to look for – so you will be ready for boating season.
Boat stands for sailboats are important to protect the hull and the rest of your craft. If they are not appropriately used, damage can occur in the off-season. Reduce the risk of damage by using top quality Brownell boat stands and the entire Brownell Boat Stand System. Visit our website for information on the type and number of stands required for your specific vessel. It pays to do your research and learn all you can about the proper care and maintenance of your boat. Not only will it save you in repairs and service, but it can also reduce downtime when you could be out on the water.
The Engine
Start your seasonal maintenance by draining off any water that remains at the bottom of the fuel tank. Drain, clean, and inspect your fuel filters. Replace any fuel leftover from last season. If any condensation has formed inside of the fuel container, it could affect the operation of your sailboat. Take a good look at the raw water pump housing and replace the impeller if necessary. You should always have a spare impeller on board in case of emergency. Inspect the alternator drive belt for any wear and tear. Make adjustments to the tension, as needed. Check the anodes, top up the freshwater coolant, and top up the gearbox with oil. Change the oil and oil filter for the engine and inspect the throttle and stop cables for excessive wear. Add lubrication wherever possible. Start by running the engine until it gets warm and then take a look at everything, including the exhaust water pump, pump, and filter seals, injector leaks, drive belt adjustment, and the alternator charging system before launching.
The Plumbing
While your sailboat is still secured safely on yacht stands or sailboat jack stands, take time to look at the plumbing. Remove any protective rags that you used during the offseason and make sure that they are clear. Go ahead and sterilize the freshwater system, flushing it and then refilling it with clean water. All filters should be cleaned, including the pump and drain, making sure to inspect all hoses and connectors.
The Electrical
Your battery is a significant part of your sailboat, and it should be checked first. Make sure it is still viable and then top up the water before recharging to 100 percent. All battery terminals should be cleaned and re-greased. Look for any damage or wear to the cables. Make sure all connecting cables are tightened. Navigation light bulb terminals should be cleaned and lightly coated with Vaseline. Recharge or replace all batteries in flashlights and spotlights. While you are still up on Brownell boat stands for sailboats, check the function of every electrical system and all instruments.
The Spars & Rigging
When it comes to a sailboat, much of the work that needs to be done will be centered around the spars and the rigging. Carefully, while still up on sailboat jack stands and keel support, take a look at the masthead, spreader ends, step, gooseneck, and vang fittings. You want to look out for signs of excessive wear and tear, including cracking or corrosion of any degree. The shroud tension should also be checked. Test out both the boom and masthead sheaves to make sure that they are running freely and that they do not have any wear. The standard rigging and the running rigging must both be checked. All end fittings, adjusters, and turnbuckles need to be checked for corrosion or cracking. Turnbuckles should be adjusted, cleaned, and lubricated, while split pins and rings need to replaced to prevent snagging. Check the wire carefully for signs of corrosion or any broken strands. All lines should be cleaned in simple detergent and sheets should be trimmed of any worn out ends. If the end whippings are loose or damaged, they must be re-done. All running rigging, blocks, pins, and shackles should be checked for safety.
The Sails
Another important maintenance check is to inspect the sails. After they have been laundered, make sure to check areas that are most at-risk, including reefing cringles, tack and clew, batten pockets, and the headboard. Lubricate all mainsail slugs as you hoist the sails, making sure that the headsail furler is cleaned correctly. Inspect the headsail UV strip for wear and check the tell-tales, replacing them if necessary. All fittings and seize shackles should be cleaned and lightly greased before hoisting the headsail.
Other critical areas, including the decks, mechanical systems, hull, and safety gear should also be checked, cleaned, and replaced, as indicated. Safety and ongoing maintenance are important to the proper care and protection of your sailboat. To learn more about yacht stands, sailboat jack stands, and other boat stands for sailboats, visit the Brownell Boat Stand System website at www.boatstands.com or give us a call at 508-758-3671.