To Check or Not to Check? Storing Your Boat for the Winter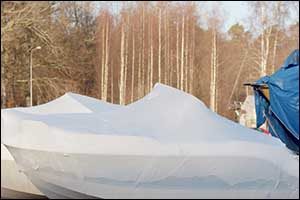 So you took on all of the tasks and cost to winterize a boat, purchased the best boat stands for sale, used the recommended keel stands and benches, and even put on the proper safety chain for boat stands, but you're still thinking about your boat in storage. You're not alone. If you don't have space to store your boat at home on your property, the chances are good that you will spend the entire winter wondering how it is doing. Storage yards will sometimes offer services that include monitoring the boats stored outside and contacting the owner if the boat cover failed or if high winds knocked it over during a storm. However, for most boat owners, that's not the same as going and looking at it for themselves.
Top Storage Options
The absolute best place for your boat to be during the winter months is out of the water and on dry land. That's one thing that most boat owners who live where it gets even a minor amount of snow and ice can agree on for winter storage. However, beyond that, there are other options that should be considered, based on where you live, the amount of money you have to spend on storage, and the size or type of boat that you own.
Climate-Controlled Indoor Storage – Of course, this would be the ideal situation for every boat owner, but due to costs and limited space, it is not always an option. Climate-controlled indoor storage can be very expensive, yet offers the best level of protection from the snow, ice, wind, rain, and weather in your local area. You will still need to figure in the cost to winterize a boat and find the best boat stands for sale to meet your needs for protecting your boat during storage. Check local costs and find out about availability before thinking about other options.
Basic Indoor Storage – While not climate-controlled, other indoor storage solutions can also be very beneficial. Many storage facilities offer indoor options for RVs, personal watercraft, and small to mid-size boats. While not as expensive as climate-controlled options, indoor storage will still be more costly than outdoor. There will also be certain requirements for storage placed on you by the facility to protect other clients and their building as well, such as insurance or proper winterizing and storage of engines, batteries, and other associated equipment.
Outdoor Boat Yard Storage – Perhaps the most common type of paid storage used by boat owners in America, the outdoor boat yard or boatyard, depending on who you talk to, is an affordable and viable solution for many. Because your boat will be stored outdoors in the winter, you will need to take all of the steps and cost to winterize a boat according to the manufacturer's recommendations and use the proper keel stands and benches for support. You should also consider shrink-wrapping your boat for a much more effective cover than most tarps or other boat covers can provide. Ask the boat yard about shrink wrapping services that might be available in addition to your storage costs.
What to Check During Storage
If you do give in to the urge to visit the storage facility and check on your boat during the winter, it pays to know what to look for when you go. Whether your boat is stored on top of boat stands, keel stands and benches or is on a trailer, check to ensure that your vessel is properly balanced. On jack stands, the boat should be level; however, on a trailer, it should be slightly bow up instead. If you followed the recommendations of the manufacturer or the company that provided the boat stands for sale, you should have enough stands per side and enough keel support to keep your boat in position.
A firm and level surface should have been used during storage, but if your boat is on top of gravel or dirt, make sure that the stands have not shifted or moved and that you have used a safety chain for boat stands to ensure that they don't get pushed out of place. Check the point of contact with the stands and the hull to make sure that there is no deformation taking place. If you notice that something isn't right, whether you are in an outdoor, climate-controlled or another indoor facility, contact the staff to help you make the adjustment. Don't try to do it yourself. Check the cover as well to make sure that it is firmly in place to provide optimal protection for your vessel.
Trust Brownell Boat Stands
The Brownell Boat Stand System makes it easy for boat owners to select the best boat stands for sale to protect their vessel when it is on dry land. We have a variety of jack stands, stackable boat stands, keel stands and benches that can be used based on the length, beam, draft, and weight displacement of your sailboat or motorboat. We also have storage solutions available for personal watercraft, pontoon boats, and other specialized vessels. Contact our team at 508-758-3671 to find an authorized dealer near you.