TLC Adjustable Trailer Pads: Protect Your Boat When Trailering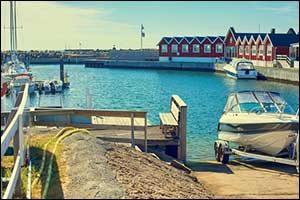 There are a couple of situations where first-time boat owners get a little nervous. Launching a boat for the first time can be a challenge, especially at a busy marina. Taking your boat out of the water and worrying whether you are doing it right or not can also be nerve-wracking. Trailering your boat for short and long distances is also right up there on the list. The best way to make sure that your boat gets the tender loving care that it deserves is to use Brownell's TLC Boat Pads, which feature a TPE surface designed to protect all hull finishes. Whether you have a gel coat, epoxy, or finished wood, our adjustable trailer pads will help protect the finish of boat's hull during transportation.
Special Features Included
In addition to the top quality TPE finish on our TLC Boat Pads, you will also notice that the surface of the TPE is designed with drainage channels. These channels were created to eliminate the common problem of moisture getting trapped between the pad and the boat. Our TLC Boat Pads can be mounted to all types of boat stands from Brownell, as well as our trailer components.
The goal of any boat owner should be to protect their boat at all costs, whether it is in or out of the water. When transporting, storing, or maintaining your boat on dry land, proper keel support and boat stands are required to effectively support the weight and provide balance. The Brownell Boat Stand Selector tool can be used to figure out the proper number of stands, keel support, and types of boat stands required for your vessel.
Some of the key features of our adjustable trailer pads include:
non-marring TPE surface, designed to protect the hull's finish
drainage channels to allow moisture to escape
ability to mount to all types of boat stands and adjustable trailers from Brownell
available in three sizes, including 16 inches (41 cm), 23 inches (60 cm), and 27 inches (70 cm), depending on your needs
made in the USA
The Brownell Wedge Stand
Another excellent tool for boat owners to consider is the Brownell Wedge Stand. Designed to be mounted to a cross member, bolted to a trailer frame, or fastened to a wooden beam, this device is protected by our traditional painted blue finish for long-lasting durability. Available in two usable positions, which can be adjusted using our ACME steel threaded rods, the Brownell Wedge Stand provides boat owners with the ability to build a custom cradle on their trailer to provide optimum protection during transportation, storage, and maintenance.
The Brownell Boat Stand System, which consists of different types of boat stands, keel support, bow racks, TLC pads and much more, is considered by many to be the best quality boat stand system ever made. We have worked hard to earn a solid reputation within the marine industry, and Brownell products are used by individuals and professionals all over the world. All of our TLC Boat Pads and adjustable trailer pads are designed to work with our entire top quality boat stands and equipment to create an unbeatable combination to protect your boat.
The Boat Stand Selector
Not sure what size or types of boat stands are required for your vessel? Just visit the Brownell website and use our Boat Stand Selector tool. Input the required information and the exact type, size, and the number of stands will be provided to you. Still not sure? You can always contact our office in Mattapoisett, Massachusetts and speak with one of our friendly and knowledgeable customer service agents. We can also provide you with information on an authorized Brownell Boat Stand System dealer near you for all of the adjustable trailer pads, keep support, and stackable boat stands you need to keep your boat safe when it is out of the water.
Made in the USA using top grade American steel, all of our products are designed with you in mind. We know that boat owners demand quality, require reliable equipment, and depend on the tools that we make to maintain, store, and transport their vessels. For over 50 years the Brownell name has stood for tradition and integrity. We strive to always treat our customers with the respect that they deserve and provide them with the highest quality for the best value. We only use American steel, American workers, and we build our products right here at our Massachusetts facility. Our mission is to continue being a leader in the marine industry, and we are always working to stay innovative by developing new and better products for our customers.
For more information on the Brownell Boat Stand System or to view our full catalog of adjustable trailer pads, TLC Boat Pads, keel support, and other types of boat stands, visit www.boatstands.com. You can also contact our team direct by calling 508-758-3671.