Tips & Tricks for Summertime Traveling With Your Boat in Tow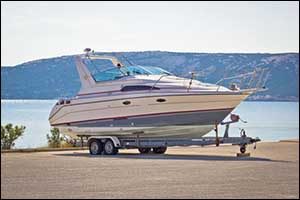 Sometimes it's fun to take your boat out on the road to explore new waters and have unique adventures. If you are new to trailering it is important to take some time to learn about all of the equipment that you will need to have a safe and memorable trip. You can purchase much of what you need locally if you know where to buy boat stands and other marine industry stands. Brownell makes a variety of parts, products, and trailer components that you can use to protect your boat while out on the road. Our TLC adjustable trailer pads will protect the hull of your boat and prevent it from slipping. When used properly with other quality Brownell products, you can effectively store, transport, maintain and repair your boat safely while out of the water.
What's Your Towing Capacity?
The first thing you need to know is how you will transport your boat from point A to point B. If you have never trailered your boat, you will want to check out the owner's manual of your truck or SUV to make sure it can handle the weight. While most of the trucks on the market today will have a good amount of towing capacity, every make and model is different. While one manufacturer's vehicle might be perfect to tow your fishing boat to your vacation spot, another model made by the same manufacturer might not. If you do not have a vehicle that is capable of towing your boat, you can rent or borrow one for your trip.
In addition to learning about towing capacity, it is also important to ensure that the weight is equally distributed on the trailer and that your boat has a lower center of gravity. To achieve this, the front half of your trailer should be responsible for approximately 60 percent of the boat's weight. The backend should then take on the remaining 40 percent. In addition to balancing from front to back, your boat will also need to be balanced properly on both sides, similar to stabilizing your boat on marine industry stands for storage and maintenance. Not only will this provide you with a safer trip for you and your vessel, but it will also extend the life of the trailer and the tires.
Do Truck Maintenance Before Any Trip
Even if you are just going 100 miles down the road to explore a new lake or river, you will want to take time to properly prepare your vehicle for traveling. Towing of any kind puts extra wear and tear on a truck or SUV, so you will want to get an oil change and have all of the fluids checked out and topped off before you hit the road. Fuel the truck up completely and check the transmission fluid specifically. This fluid is responsible for preventing the motor from getting too hot and will reduce the strain on your vehicle's transmission.
Also, make sure to get all of your tires checked – including the ones on the trailer. If it's been awhile, consider bringing your truck or SUV in to get the brakes checked as well. You don't want to wait until you're traveling through the mountains to discover that your brakes don't work as good as they should. With the extra weight of the trailer and boat, you will need your brakes to be in top shape. If you are due for servicing or nearly due, invest in manufacturer recommended services before your trip. The more you can do ahead of time to ensure that everything is in good working order, the better off you will be.
Practice Makes Perfect
Whether this is your first road trip with a boat in tow or if it's been awhile, take time to practice driving your truck and trailer fully loaded. Towing a boat makes it a lot more difficult to make stops, turns, back up, and get on and off the freeway, so it pays to do a practice run. Before leaving, make sure that the boat has been properly secured and get a friend to help you check all of the lights. Your running lights, brake lights, and signal lights should all be in proper working order. Every state has different laws about lights, so make sure you know what you'll be driving into before you leave.
Go over the route that you plan on taking to determine if there are any areas that might cause you trouble with a boat in tow. It's also a good idea to check with local and state laws about bringing a boat in from out of the area. There may be licensing and insurance requirements that you are not aware of in your home state. This is the best way to avoid getting a ticket or fine because of a misunderstanding. The more prepared you are for your trip, doing some basic research online or contacting the place where you will be staying, the easier it will all be once you get on the road.
Brownell Boat Stands
For more information on all of the trailer components, adjustable trailer pads, and marine industry stands available through Brownell, visit our website at www.boatstands.com or give us a call at 508-758-3671. We can answer any questions you might have or provide you with details about an authorized dealer near you.