The Spring Countdown Has Begun: Brownell Boat Lifting Systems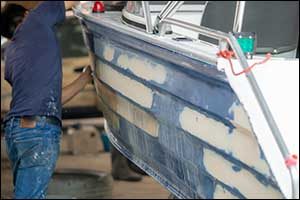 You can smell spring coming in the air. Before we know it, we'll be out on the water fishing, water skiing, cruising, and getting to use our boats just as we dreamed about all winter long. Hopefully, you took time to prepare your boat for winter storage last year, so the amount of work that will need to be done to get it ready for the water this year won't take too long. Make sure to visit the storage facility to take a look at your vessel before you plan to launch it. This will provide you with plenty of time to see how it fared during the winter on our independently certified boat stands and to inspect your trailer to see if it's time to replace adjustable trailer pads or get parts for your boat lifting systems. Brownell engine racks, which can be used for maintenance and off-season storage, should be checked as well to make sure everything is operational and ready for seasonal use.
Brownell Boat Lifting Systems
If you don't have access to a boat lift system where you store your boat or if you simply want to take charge and do it all yourself, consider buying one of our Brownell Boat Lifting Systems. Currently, the Foldable Boat Lift System is on sale, creating the perfect option for getting your boat onto or off of a trailer without having to wait for assistance. Just like our independently certified boat stands, our lifting systems have been certified to safely and easily lift a boat up to 25-feet or 5,000 pounds onto or off of a trailer. Our innovative strap design can be used to conform to a wide range of hull shapes, making it a great investment for boatyard owners and storage facilities as well.
The specifications for the Foldable Boat Lift System include options for vessels up to a maximum of 94-inches high and for trailers that are up to 108-inches wide. This tool is lightweight and features a folding design, which makes it easy to store, use, and even transport for lifting your boat off of the trailer once you reach the water. It has an anodized aluminum frame for long-lasting durability. For best results, you should use Brownell boat stands at the stern for added protection during lifting. Click HERE to see pricing, shipping, and specifications for this product, as well as a full how-to video that will help you understand how our boat lifting systems are used.
Quality Trailer Pads and Accessories
Inspecting your trailer should happen twice each year – when you are about to transport your boat to storage at the end of the season and again before the season starts to make sure no damage occurred during storage. Replace any adjustable trailer pads with our high-quality TLC pads and other trailer accessories for best results. Our pads can be used with our independently certified boat stands and adjustable trailer pads to provided added protection for your vessel. Our trailer pads are designed to ensure "tender loving care" for the protection of your boat's finish while offering drainage opportunities to eliminate moisture on the hull. They can be mounted to any type of Brownell boat stand or adjustable trailer.
Why choose TLC boat pads? Brownell manufactures these quality pads right here in the USA using a TPE surface that can be used to protect just about any type of finish, including gel coatings, epoxy coatings, and even fine wooden crafts. All fasteners required for use are included with our TLC boat pads, and the standard plywood pads that come with any of our Brownell boat stands and adjustable trailer pads can be replaced with these upgraded options. It is possible to order just the TLC boat pad for replacement purposes or get a TLC top in 16 and 23-inch options, as well as adjustable trailer pads in 16, 23, and 27-inch models. All of our products are known and used by marine industry professionals and individual boat owners all around the globe.
Brownell Engine Racks
Maintaining and storing your motorboat engines is an essential part of winterizing and de-winterizing your vessel for use. Brownell engine racks are designed for use with a variety of different engines to provide safe and secure handling solutions for seasonal maintenance, storage, showrooms, and workshops. Our products feature an ergonomic handle and options for swivel or stationary casters, for ease of movement. Caster locks are available as well to allow for safe storage or security while using. Made from a heavy-duty steel construction and our traditional painted blue finish, Brownell engine racks offer long-lasting durability for professionals and individual boat owners alike.
Ready to start shopping for Brownell products? Visit our website at www.boatstands.com or give us a call at 508-758-3671. We can answer any questions you have about adjustable trailer pads, boat lifting systems, Brownell engine racks, and our famous independently certified boat stands. Our team can also help you to find an authorized dealer near you.