The Significance of Keel Stands and Benches for Boat Storage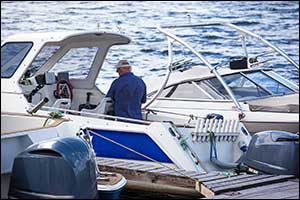 At Brownell, we are known for our boat stands. In fact, the Brownell Boat Stand System is used by individual boat owners and marine professionals all around the globe. However, keel support is one of the most significant elements of boat storage that is often overlooked. Sailboat jack stands, yacht stands and other types of boat stands are designed for stability, preventing your vessel from tipping over or leaning while stored on dry land. Keel stands and benches are designed to take on the weight of the boat, which is what makes them essential for anyone who wants to keep a boat out of the water for any length of time.
Quick repairs that can't be reached in the water, re-painting the hull and off-season storage are perhaps the most common uses of the Brownell Boat Stand System. Marine industry services, such as boatyards, repair and maintenance businesses, and custom shops, rely on the comprehensive protection that they get when they use our boat stands and keel support products. Placement is simple and straight-forward, our yacht stands, keel stands and benches are easy to use, and we even provide a guide via our website to help those new to sailboat jack stands and motorboat stands to use them properly for best results.
Why Choose Brownell
Like all of our other innovative products, our keel support products are designed to help save time and labor when used in place of conventional wood blocks. Our keel stands and benches feature our easy to adjust ACME solid steel threaded tops, which can also be stacked and nested for compact storage when not in use. Our entire system has been independently tested and rated to ensure professional-quality results. We suggest that you use one keel stand for every 20,000 pounds (9,100 kilograms) of vessel weight. Our keel stands should always be used in pairs for proper weight distribution. So if you have a boat that weighs 25,000 pounds, you should use at least two keel stands that are spaced evenly along the keel to provide proper protection.
All Brownell products are designed with the end-user in mind. Our products are designed and manufactured right here in the USA, and we only use the best quality American tubular steel for the components in our Brownell Boat Stand System. Unlike other types of steel, you can rely on American steel to provide you the strength, durability, and long-lasting reliability that you need to protect your boat when it is out of the water. Whether you are storing your boat for the season or providing much-needed maintenance and repairs, you can count on Brownell products to keep your boat safe while on dry land. Choose from a variety of sizes that range from 28 to 54-inches in height, hot dip galvanized or traditional blue painted finish, and a variety of different pads for added protection.
Professional Stands vs. Blocks
Visit any boat-oriented chat board, and you will see pages and pages of discussion regarding the use of keel support products. Some will swear by concrete or cinder blocks, while others stick with the old school wooden blocks. Brownell recently introduced our new galvanized steel blocks, which are easier to move around and place than traditional wooden blocks, and have a much longer lifespan. The truth is that while all of these options will technically work to support your vessel while out of the water, there are still some significant advantages to choosing professional keel stands and benches to use in conjunction with your yacht stands, motorboat stands, or sailboat jack stands, depending on the type of vessel that you own.
Cinder/Concrete Blocks – these are not designed to support the weight of your vessel
Wooden Blocks – the most popular solution for keel support; very heavy, but simple and straightforward to use for supporting your vessel out of the water
Galvanized Steel Blocks – designed to last much longer and provide greater strength than these other two methods
Brownell keel stands and benches are designed to make supporting and storing your vessel a whole lot easier than these other block methods. They can be stacked, nested, and stored compactly when not in use, reducing the amount of space required for keeping them on hand in your garage or for professionals at a large storage facility. Choose from traditional blue painted or hot dip galvanized finish, flat top and v-top varieties, stands or benches, and our TLC boat pads for added protection. Professional keel support products provide a better aesthetic and help to save time and labor compared to other methods. Ultimately, the type of vessel that you own and the amount of time that it will be out of the water should influence the type of equipment that you purchase.
Ready to Shop the Brownell Boat Stand System?
Visit our website to see where to buy our yacht stands, keel stands and benches in your area or use our Boat Stand Selector tool to help choose the boat stands and keel support best for your vessel. You can download a brochure, watch demonstration videos, and read more articles like this one to help you understand how to best use our products. You can also give us a call at 508-758-3671 and speak with one of our customer service agents about your needs. We can answer any questions that you might have about the Brownell Boat Stand System or provide you with contact information for an authorized dealer near you.