The More You Know: Dry Docking a Wood Sailboat for Repairs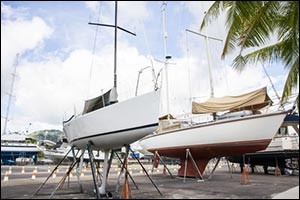 There are a lot of responsibilities to consider when you own a boat. Taking care of your boat out on the water is one thing, but dry docking it for the winter or putting it up on a sailboat stand while you do repairs is another. While there is a lot of work involved, it is important to do everything the right way to avoid causing expensive damage to your vessel. Even if you hire someone to take care of these details for you, it is important for you to know what needs to be done so you will know if it is being done correctly or not.
How to Block a Boat
Taking your boat out of the water and putting it up on blocks can be a dangerous prospect, especially if you don't know what you are doing. There are some specific guidelines available from the American Boat & Yacht Council on how to properly remove your sailboat from the water, transfer it to a trailer, transport it to your storage yard and how to put it up on blocks or a sailboat stand. Brownell boat stands come in a wide variety of types and sizes, based upon what you need to protect your boat during storage.
You can choose to use Brownell boat stands for your sailboat. Choose from a variety of stackable or foldable sailboat stands, keel supports and other options for best results. Wooden blocks, which are preferable to concrete blocks, can also be used. Brownell boat stands are made in the USA from American Steel and are designed to work well and last long, no matter how much punishment you can dish out. When shopping for a sailboat stand, you can trust Brownell boat stands.
Picking the Best Spot
Begin by choosing a good spot at the boat yard that is level and firm. The Brownell Boat Stands system is highly recommended for use with sailboats and other vessels that have a keel construction. A minimum of six stands is highly suggested, and the stands should be placed at an even distance from each other along the length of the boat. Add an extra set of foldable sailboat stands to ensure that the vessel stays safe, even in heavy winds.
The larger keel stands or wooden block supports should be used below both the back and the front of the keel construction to ensure stability for the base. It is also suggested that you use a small piece of plywood underneath each leg to prevent the sailboat stand from sinking into loose ground during storage or repairs. The boat stand should be turned until it points against the center line of the vessel.
Regarding the hull area, Brownell boat stands should be adjusted with the adjustment screw into a straight 90-degree angle to the hull of the boat. Security chains should be placed in the small groove, and then be tightened by gently pulling the stand backwards and away. The security chain should be pulled below the keel and up on the other side of one pair of sailboat stands are facing the keel or if the boat has a long keel. Use a stand with a V-top for more stability at the bow.
Proper Use of Boat Stands
The Brownell Boat Stands system recommends that you use a minimum of six stands, but the overall recommendation is based upon the length of your sailboat. Extra pairs of sailboat stands should also be used if the boat is heavy in the bow or the stern. Brownell also recommends using an extra stand for support to help decrease the amount of pressure on the hull. There are different types of stands, including stackable and foldable sailboat stands, as well as V-top models, which were designed to fit the bow perfectly.
Before you use any type of Brownell boat stands, make sure to read the installation manual to make sure you know how many stands you need and where they should be placed for best results during sailboat storage and dry docking for repairs. Currently, Brownell recommends a minimum of six stands for vessels less than 30 feet, seven to nine stands for vessels 30-40 feet, nine to eleven stands for vessels 40-55 feet and thirteen stands or more for vessels that are over 55 feet in length.
Boat Stands Made in the USA
If you are interested in learning more about the Brownell Boat Stands system or about the different types of stackable and foldable sailboat stands available, contact Brownell by calling +1-508-758-3671. You can also use our website to preview our products or to find an authorized Brownell sailboat stand dealer near you.