The Best Sailboat Jack Stands & Keel Support for Dry Storage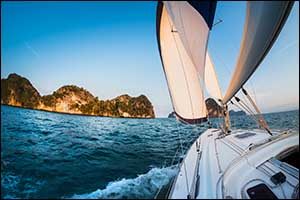 It doesn't matter if you only plan on keeping your boat out of the water for a few weeks or if you're storing it during the winter for a few months, it pays to use the proper equipment to protect it while it's out of the water. Sailboat stands come in a wide variety of sizes, materials, and options, as well as a few different price points. While it can be tempting to go cheap and get a used yacht stand from a fellow boater or prop your sailboat up on cinder blocks, you want to make sure that you invest in the right kind of keel support and sailboat jack stands for your vessel. Staging ladders, chains, keel benches, and wooden or galvanized metal blocks can also be used, just make sure you use the proper size, type, and number to support and balance your boat.
How to Choose a Good Storage Facility
If you are out shopping for boatyards to store your vessel while maintenance is performed or if you'll be out of town for a good length of time, you need to find a facility that best suits your needs. One of the biggest reasons why people select one yard over another is convenience. Having a boatyard nearby the place where you launch is always attractive. Another reason is price, as most boat owners have learned to save money wherever and whenever they can get away with it. The final consideration is quality, which unfortunately, usually ends up at the bottom of the barrel.
Take a tour of the boatyard to see what kind of sailboat stands and keel support they use. Look for the traditional blue and orange trademark colors of Brownell products as a sign of quality. Our sailboat jack stands, staging ladders, and support products are independently certified and are made from American tubular steel. You don't want to trust your boat, in which you have invested blood, sweat, tears, and thousands of dollars, to anything less. Look for improper storage situations and jack stands that are rusted or worn out. If you see these issues, go ahead and ask an employee because it might be boat owner equipment; but if the equipment belongs to the facility, you might want to move on and keep looking.
Selecting the Best Equipment
One way to ensure that your vessel is properly stored and protected is to invest in your own top quality sailboat stands, staging ladders, yacht stand system, and keel support. The Brownell Boat Stand System is designed to address the unique requirements of each type of vessel, including sailboats, motorboats, pontoons, and even personal watercraft, to ensure the best possible results. In addition to purchasing the right equipment for the job, you also want to learn how to use it. You can check the owner's manual to see the manufacturer's recommendations, but you can also view the guide available on the Brownell website.
For example, when it comes to sailboat jack stands, we recommend that you use six or more stands to support a boat that has a keel construction. Start by placing the stands an even distance from one another all along the boat. You will want to use an extra set of stands if the boat still has the rigging on it for extra stability. Choose from our large size keel stands, benches, wooden, or galvanized steel keel support for the weight of the vessel, which should be placed below the front and back of the keel construction for best results. Brownell suggests that you use a small piece of plywood underneath each leg to prevent the leg from sinking in the ground that is loose or that might become loose during seasonal weather.
Why You Should Use Brownell Equipment
Compared to other manufacturers of sailboat stands, staging ladders, yacht stand systems, and other marine equipment, the materials used in the manufacture of the Brownell Boat Stand System are far superior. We use only top quality American tubular steel, which far exceeds the industry standards and requirements. All of our stands and support products are independently certified to provide a safe working load of 20,000 pounds of 9,100 kilograms. Our sailboat stands are an integral part of our popular system and are designed to provide balance, while the keel support takes on the weight of your vessel.
For more than 50 years the Brownell name has been synonymous with quality marine equipment. You can see our blue and orange sailboat jack stands and other products at marinas, boatyards, and storage facilities all around the globe. Choose from yacht stand options that range from 24-36 inches on up to 79-96 inches in both V-top and flat-top styles. Our adjustable sailboat stands are the perfect solution for boat owners who take pride in their vessels and want to protect them while they are out of the water. They are also used by professionals in marine facilities, showrooms, production companies, and other industries all across the country. To learn more about our products, visit www.boatstands.com or give us a call at 508-758-3671.