The Best Motorboat Stands for Your Vessel & Where to Buy Them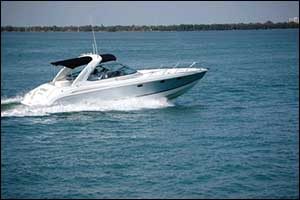 If you are looking for a safe, easy, and effective way to stabilize and protect your boat on dry land, consider Brownell Boat Stands. Choose from a variety of motorboat stands based on your unique needs. Motorboat stands have a straight, vertical centerline pipe that features an adjustable screw top to create a custom fit. These straight motorboat stands are designed for boats that have flat bottoms. If your vessel has a deep V-shape bottom, you will want to consider sailboat stands instead.
Most boats will spend a good amount of time on dry land, whether they are sitting on a trailer or in storage. Some boat owners have space to store their boats at home, while others rely on services from local boat yards and storage facilities in their area. Figuring out where to buy boat stands is half the battle. However, once you find a quality supplier, you can start looking at other essential pieces of equipment. Brownell engine racks are great for providing storage or offering a safe method for cleaning and maintaining engines while out of the water.
The Original Boat Stand
Over 50 years ago, David "Fred" Brownell invented the Brownell Boat Stand, which revolutionized the way that boats were stored in America and all over the world. The Boat Stand Selector helps boat owners to determine the best combination of motorboat stands, keel support, and Brownell engine racks to use for their vessel. Our Boat Stand System has been proven to be the fastest and safest way to store boats out of the water. Made from American tubular steel, our boat stands are some of the most reliable and durable on the market.
Our unique design allows boat yards and owners to store more boats per square foot. When not in use, the motorboat stands are stackable to reduce the amount of room that they require on-site. Our boat stands and equipment are painted in our traditional blue and orange finish. You can see our high-quality Boat Stand System in use at boat yards and marinas all around the world. We take pride in creating products and components that meet or exceed our customers' expectations. As a result, Brownell is known and used by professionals all over the world.
Why Use Motorboat Stands
As you travel around to marine industry establishments, you will see some pretty creative methods being used for propping up and storing boats. When boat stands first came available, they changed everything. They are used by individual boat owners, marine service providers, storage yards, and professional boat builders across the United States and around the world. Brownell boat stands have helped to improve efficiency for boat yards and marinas while making dry storage simple for boat owners at home. Motorboat stands are intended to balance your boat, not support its weight. Adjustable keel stands and benches are used for that purpose. While some boat owners still rely on wood or galvanized blocks to support the hull, a much better result will come from using the keel stands recommended in the Boat Stand Selector tool.
A full guide based on the type and size of vessel that you own is available on the Brownell website to make it even easier to store your boat on dry land. We can even help you learn where to buy boat stands and components in your area. It is important to support the weight in such a way that the boat is either level or slightly leaning to the stern for drainage. Once the boat is placed on the support equipment, the jack stands can be used to keep it balanced and in place. Engines can be cleaned, serviced, and effectively stored using the Brownell engine racks and system to reduce the weight and strain on the vessel further. A minimum of four stands should be used for a powerboat, and six or more should be used for sailboats. It is important to use the online Boat Stand Selector for details based on the make and model of your boat.
Trust the Brownell Name
Boat owners should consider investing in a one-time purchase of motorboat stands and keel support for their vessel. It can help to provide proper storage and protection of a boat when not in-use or during the off-season, eliminating costly boat yard storage fees. To learn more about the Brownell Boat Stand System equipment and components, visit our website at www.boatstands.com. You can also call our office in Mattapoisett, Massachusetts by dialing 508-758-3671. Our staff can answer any questions that you might have about our high-quality products or provide you with information about an authorized dealer near you.