The 7 Costs of Sailboat Ownership Nobody Wants to Talk About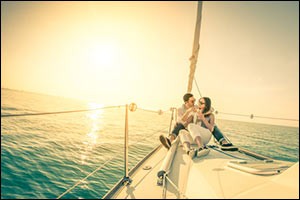 Did you treat yourself to a brand new boat this year? Are you thinking about buying a brand new boat? The old saying among boat owners is that, "a boat is a hole in the water that you pour money into" and while that might sound like a funny joke, it actually couldn't be more accurate in many instances. However, once you have been bitten by the sailing bug, chances are it's already too late for you. A love of the open sea is one of those things that you can't turn away from, so it's time to just deal with it and take care of what needs to be taken care of to protect your investment thus far.
#1 – Taxes
It doesn't matter if you are out on the water or dry docked on land, there's no real way to get around taxes – unless you know about the loopholes. If you were to purchase your boat in Rhode Island, there are no sales taxes charged on a boat. In some states you don't have to pay a property tax on boat ownership. Check the tax laws in your state, which most boat owners will likely share with you in conversation, to find out what you will be face with when the tax man commeth.
#2 – Insurance
You've gotta have insurance – especially if you are making payments on your boat. The amount of insurance that you need depends greatly on the lender's requirements and on where you are located. Not surprising, boat owners in the hurricane zone will pay more for insurance than boat owners in other areas of the country. Even if you dry dock your boat on top quality sailboat stands, you are still at the mercy of the weather. The average rate for basic insurance is about one-and-a-half percent of the value of the boat.
#3 – Title & Registration
The state where your boat resides determines the amount that you pay. Again, check the laws where are located to find out where you want to register your boat. Costs can range from $3 a foot on upwards of $10 a foot. If you ask around, most boat owners will share this information with you openly.
#4 – Maintenance
When you invest so much into your sailboat, the least you can do is protect your investment. If you take care of it every time you go out, you will save yourself a lot on maintenance costs. For example, washing down the boat with freshwater after every use can extend the life of your sailboat. Sails will need to be replaced every couple of years and cleaning materials aren't cheap. Recent estimates show about $300-400 each year in soaps, waxing and fabric treatment, even if you do most of the work yourself.
#5 – Dock Fees
Again, this cost will vary depending on where you live and where you go. The cost also varies depending on the size of your boat and whether you require any additional services while docking. Dock fees can range from a dollar and change per foot each day on up toward $5 per foot each day in some areas. Seasonal increases in rates are normal, with higher fees during better weather and lower fees when no one else wants to be there.
#6 – Storage
Regardless of where you live or keep your boat, you will need to dry dock it seasonally, either in the winter or hurricane season, or for annual maintenance and repairs. It pays to invest in high quality sailboat jack stands that are coated in a hot dip galvanized finish for long-lasting results. Brownell sailboat stands are tops in the industry. Contact an authorized local dealer for quotes on sailboat jack stands, jack stand replacement parts and other essentials for dry docking or storing your sailboat. Don't just rely on the equipment at the boat yard, make sure you only trust your vessel to the very best.
#7 – Safety Equipment
One could say that there is no price that can be put on the safety of you and your guests, but the truth is that it costs a lot to purchase safety equipment. These are required by law in most places, but should just be common sense. Life jackets can run about $80 on up and you should also have an emergency kit on board. Purchase what is known as a "Coast Guard Safety Package," which includes a visual distress signal kit, a fire extinguisher, a Freon horn and dock lines all in a safety gear bag for around $200. Additional gear can include safety whistles, flares and a variety of GPS systems, radio systems and other electronic equipment, will cost even more.
Trust Your Sailboat to Brownell Products
All of the products manufactured and sold by Brownell are Made in the USA using only top quality American steel. Constructed by true American craftsmen, Brownell is committed to ensuring consistency and control with every product we sell. The Brownell sailboat stands have earned a solid reputation within the marine industry. They are made of a very unique design that allows them to be stacked or nested for convenient storage when not in use.
Brownell sailboat stands and sailboat jack stands can feature a hot dip galvanized finish or be painted the traditional blue or bright orange for long lasting protection. The Brownell name is known all over the world to be the best quality sailboat stands that have ever been made. Contact a local dealer for sailboat jack stands, jack stand replacement parts, TLC boat pads and more. To find a dealer in your area, contact Brownell direct by calling +1-508-758-3671.