Summer Transport Tips: Trailering a Boat With TLC Boat Pads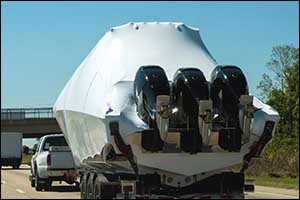 Boat owners in the United States often have the option to transport their recreational boats cross country through the use of trailer systems. However, trailering is not for everyone. While it might seem simple just to pull it to your destination, there's a lot more to it than that. Protecting your boat whenever it is out of the water should always be a top priority, making sure that you use adjustable trailer pads like Brownell's high quality TLC boat pads and the appropriate lifting systems and trailer components is essential. The more you can learn about trailering your boat before you attempt it for the first time, the better your results will be.
Boat Trailering Nightmares
Yes, there are quite a few of these. This is one of those situations where it is vital to have all of the right equipment to get the job done right. One small error can mean disaster on the highway. Issues with everything from hitches and tires to blowback from fuel accidentally existing trailered boats are unfortunately very common. However, there are things that you can do to prevent this from happening to you. The more you can plan for your trip, the easier it will be to make sure that you check off all the important boxes with regard to boating and boat trailering safety.
Know your fuel capacity. Never "top off" or over-fill your boat's fuel tanks. Cool gas coming up from the pumps will expand while out on the road, resulting in blowback or polluting out on the water. Don't rely on your boat's gas gauge, but instead have a working knowledge of tank capacity and fill up accordingly.
Check your tires regularly. Inspect the tires on your trailer before you load your boat for transport. Recheck the tires before you leave on your trip. Take a look at those tires every time you stop to fuel up your vehicle. Look for warning signs, such as bulges in the sidewall, cracks on the tread surface, and other abnormal wear and tear. Make sure tires are inflated properly and that they are cleaned regularly for maximum return on your investment.
Double-check coupler, hitch, and hitch ball. This might sound pretty basic and something that no one would overlook, but ensure that your coupler, hitch, and hitch ball are all matched in size. Never try to "make it work" if something is off, it's too much of a risk. Make sure that the coupler and safety chains are properly and safely secured to the hitch and that all fasteners and trailer components are tightened appropriately.
Carrying capacity. What is the carrying capacity of your vehicle? Can it handle the trailer, your vessel, and all of your gear? Know the maximum load carrying capacity for your vehicle and ensure that you do not go over it – not even by ten pounds. Make sure that the tow vehicle is in proper working condition, recently serviced, and that all tires, lighting, and brakes are working properly before your trip.
Trailer equipment. Make sure that all trailer lighting and trailer components are working properly and that everything is adjusted, maintained, and tightened to safeguard your vessel. The boat must be tied down securely to the trailer, and the trailer must be the appropriate size and type for your vessel. Use adjustable trailer pads or Brownell's high quality TLC boat pads to further protect your boat while on the trailer.
Common Boat Trailering Issues
Research studies conducted by marine insurance companies reveal that the number one cause of claims made for damage to a boat during transportation is flat tires on the trailer. The more you can do to ensure that the tires and other essential trailer components are in top condition, are properly inflated, and effectively cared for when not in use, the better protected your boat will be during trailering. Other common issues include bearing failures within the trailer itself, which should be inspected and repacked each time you change your oil to ensure effectiveness; tow vehicle issues, especially for long-distance trips; and improper use of tie downs, fasteners, and other trailer components.
Brownell's high quality TLC boat pads are designed to provide "tender loving care" to your boat, protecting the finish and ensuring proper drainage to eliminate moisture on the hull. Our adjustable trailer pads can be mounted to any type of Brownell boat stand or adjustable trailer system. Made in the USA, the TPE surface of our TLC boat pads can protect gel coatings, epoxy coatings, and even fine, wooden crafts. Our boat lifting systems can also be used to help you safely and easily lift boats to get them on or off of your trailer. Choose from our Brownell Manual boat lifting systems or hydraulic boat lifting systems, depending on your needs. Our Brownell Foldable boat lifting systems can lift a boat that is 25-feet in length or up to 5,000 pounds with an innovative strap design that can conform to a variety of hull shapes and sizes.
Ready to Hit the Road?
As you plan and prepare your trip to trailer your boat to a new destination, make sure to browse the Brownell website to check out all of our high quality TLC boat pads, boat lifting systems, trailer components, and adjustable trailer pads. We also carry all of the boat stands, keel support, and boat dolly equipment you could ever need to safely maintain or store your vessel while it is on dry land. Give us a call at 508-758-3671 or use our boat stand selector tool and "where to buy" option to find an authorized dealer near you.