Summer Sun Protection: Using Boat Stands, Trailers and Covers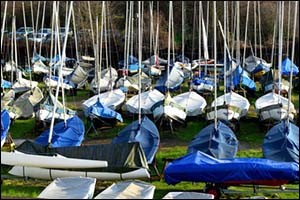 Each and every day your boat is exposed to the elements, but none are as harsh as the hot summer sun. Whether your vessel is in the water, stored on stackable boat stands or set on top of adjustable trailer pads as you transport it from one lake to the next, it needs protection from the sun. You take time to choose a boat stand that is right for your vessel, that provides the proper keel support and protection from damage. It is important that you also take the time to choose boat covers that will protect your boat from the hot and dry sun, which can take its toll on your wood and paint job.
Whether you are out on the sea or fishing in a freshwater lake, the combination of summer sun, pollution, salty or moist fresh water air, animal droppings, fish guts and seasonal storms can all do a lot of damage. A good quality boat cover is just as important as using quality stackable boat stands from Brownell and providing support with adjustable trailer pads when hauling. It's all about protecting your investment and keeping it safe so that it is ready to get out on the water when you are, without wasting valuable time cleaning and making repairs.
How to Choose a Good Cover
Even a small investment in a good cover will make a big difference, preventing fading and oxidization of your gel coating, cracks and bleaching of the wood, even moisture issues like mold and mildew that can get into your interior. Make sure that the cover you use is designed for your type of boat and the function that you require. For example, a boat cover that is used during storage is quite different from the boat covers that are used for trailering and travel.
Storage Covers – Great for use when your vessel is up on keel support and stackable boat stands, as well as boats that are anchored or at the dock. Can even be used when boats are stored on a trailer using adjustable trailer pads, but not good for transporting on the trailer. Support covers are typically a simple tarp with a loose fit, but can also have other features based upon the specific needs of your vessel.
Trailer Covers – Also known as "travel" covers, these covers have a snug fit to prevent the cover from coming off while transporting on roads and fast-paced highways. Quality trailer covers should have reinforcement added to high-wear areas to help protect the boat during transportation.
You should also choose a boat cover the way that you would choose a boat stand, based upon your exact size and type of vessel, and the way that it will be used. There are generic one-size-fits-most type covers, which are cheap and used for light storage or for short trips to the lake. A drive of any distance with your vessel sitting on adjustable trailer pads on your boat trailer would require a more custom and tight fit for true trailer cover protection.
Semi-custom covers are designed with specific makes and models of popular boats in mind, such as bass boats, ski boats and other common types. Custom covers will provide you with the best fit and are made for the specific make, model and year of your vessel, include options to cover specific accessories and will fit perfectly. Of course these are the most pricey, but like any other equipment that you purchase, from stackable boat stands to keel support and trailers, the investment pays off.
Where to Get Top Quality Boat Stands
Speaking of top quality boat stands and trailer pads, the best place to equip your boat during transportation or storage is to choose a boat stand from the industry leader, Brownell Boat Stands. For over 50 years we have provided top quality stackable boat stands and keel support for boat owners, boat yards and other marine industries all around the globe. You can choose a boat stand online via our boat stand selector or get a custom recommendation from one of our authorized dealers. The Brownell Boat Stand system is the fastest, easiest and most reliable way to protect your boat when out of the water. Our full line of adjustable trailer pads, keel support and stackable boat stands can all be used to provide comprehensive protection for your vessel year-round. Give us a call at 508-758-3671 to find a local dealer near you.