Successful Design and Innovation: Brownell Motor Boat Stands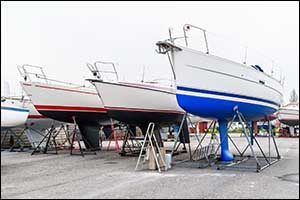 When it comes to the different types of boat stands that are on the market today, most professionals will tell you that Brownell is the very best. We invented the boat stand as it is known today, so it only makes sense that our sailboat and motor boat stands are better than all the rest. Learning how to choose a boat stand for your specific vessel does have a bit of a learning curve. While many owner's manuals will have this information available to help you make a smart choice, others may not say much about how they should be used. Brownell makes it easy with our Boat Stand Selector tool and adjustable backbone for boat stand options that can help even new boat owners to get the equipment they need for dry storage and maintenance solutions.
What Sizes and Types Are Available?
When you visit the Brownell website it can be a bit overwhelming, but we have taken pains to ensure that all of the information you need for motor boat stands is in one place. Keel stands, benches, and blocks are in a separate section so you can browse those as well to find the option that works best for you. Our selection of solid steel motor boat stands is available in a variety of different styles and sizes. Boat owners and marine professionals can choose from a wide range of hot dip galvanized or traditional painted blue finish stands based on their unique needs. Our adjustable backbone for boat stand use allows for smooth adjustments, even under considerable loads.
If you aren't sure how to choose a boat stand for your vessel, you can use our Boat Stand Selector tool. However, our stands range in size between 18-25 inches for the smallest, on up to 116-132 inches for the largest. All Brownell boat stands have been independently tested and are certified to have a safe working load of up to 20,000 pounds. It is essential to understand that our different types of boat stands are designed to be used as a balancing device. The true weight of your vessel rests on the keel, which can be supported by your choice of keel stands, benches or blocks. We carry a variety of keel support products as well, which can be viewed on our website. Still not sure what you need? Call our team and speak with a knowledgeable staff member about your specific needs.
Why Choose Brownell?
When it comes to boat stands, Brownell has earned a solid reputation with marine professionals and individual boat owners all around the globe. Our products are known and used by industry pros and are considered to be the best quality boat stands ever made. We sell sailboat stands, motor boat stands, and Brownell also makes systems and solutions for personal watercraft, pontoon and tritoon boats, as well as other types of vessels. Back in 1954, David "Fred" Brownell, who revolutionized the way that boats were stored with his invention of the Brownell Boat Stand. Since then, the Brownell name has become synonymous with quality and reliability. We are well-known for our innovations and top-notch customer services.
All of our products and components are made in-house by skilled American craftsmen right here in the USA. We use top quality American tubular steel, which is known for being the most durable steel available. Other companies use Asian steel, which can vary widely in quality and is more susceptible to rust. We take pride in using only the best quality materials to create our motor boat stands. Each product that we sell has been designed for quality. We have sizes available to fit virtually ANY boat and offer a lifetime warranty. Our products are designed to help boat yard owners store more boats than any other boat stand system. Superior welded construction and options for hot dip galvanized or dipped paint provide added corrosion protection both inside and out.
The Boat Stand Selector
For those who need help learning how to choose a boat stand, we will first refer you to the owner's manual for your vessel. However, if you no longer have the manufacturer's information or if you aren't sure what to do, you can use our online Boat Stand Selector tool. We have many different types of boat stands in a variety of sizes, so you will need to know a couple of specifications for your boat, including the length, beam, draft, and weight displacement for the vessel. Our Boat Stand Selector can help you choose the best motor boat stands and keel support for your boat. Visit our website to see this tool in action.
Ready to purchase Brownell Boat Stands for your motor boat or sailboat? We can answer any questions that you might have about our stands, keel support, and adjustable backbone for boat stand adjustment. Contact our team direct by calling 508-758-3671 to find an authorized dealer near you or to place an order.