Storing Your Vessel: Using the Brownell Boat Stand Selector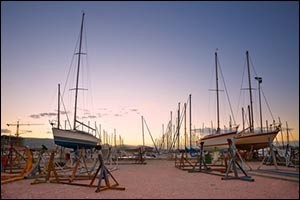 If you own a yacht, sailboat or motorboat, you should be highly concerned with keeping your vessel in tip top condition. From taking care of annual maintenance before the season starts to making sure that your boat is properly cared for in the off-season, there are a lot of things to keep track of and work on all year round. Taking care of the body, protecting the upholstery, upgrading the technology, making sure repairs get done and ensuring that the boat yard that you dry dock your vessel in provides you with all of the care you require, it's all part of being a boat owner.
Even if you live in an area where you are fortunate enough to be able to go out on the water all year long, there will be times that you need to dry dock your boat for routine maintenance and occasional repairs. It pays to work with a boat yard that provides or allows you the ability to use the boat stands of your choice. From the boat lifting system on down to the motorboat stands, sailboat stand system and keel support, it is in your best interest to make sure you are using the very best.
Why Brownell Boat Stands?
If you are not familiar with Brownell boat stands and don't know what the "big deal" is about these marine products, it is important to take some time to learn more about why they are so popular. Brownell basically invented the boat stand, as we know it and use it today. Their online boat stand selector can help you choose the best type of motorboat stands or sailboat stand system to properly protect and support your vessel when it is out of the water.
Made in the U.S.A. by experienced craftsmen with All-American Steel, Brownell boat stands have been around for over 50 years and have set the standard within the marine industry. They are designed and manufactured with the goal of making boat handling more efficient – and effective. Professionals all around the world recognize the Brownell brand as being of the highest quality ever made. Manufactured in Southeastern Massachusetts, Brownell products, including the boat lifting system, motorboat stands, sailboat stand system, keel support, boat dollies and much more are available in just about every country around the globe.
Some of the other reasons why Brownell has set the standard for boat stands include:
a lifetime warranty
made from solid American steel
ACME threaded adjustable rods
superior quality welded construction
unique stacking and nesting design for compact storage
sizes available to fit virtually ANY type and size of boat
choice of hot dip galvanized or dipped in paint for added protection
independently tested with a certified safe work load of 20,000 pounds
Protecting Your Investment
When your vessel is out of the water, that is the best time to take care of all your regular maintenance and any repairs that you have been putting off doing. When your yacht, motorboat, sailboat or fishing boat is submerged below the water line, a lot of damage can occur that you don't even see. Just sitting in the water can already wreck havoc on it's own, but things like poor water quality, exposure to storms, driving around at fast speeds and poor maintenance can help to expedite the damage over time.
From repairs to fiberglass and gel coating to painting the under body and checking for blisters, the more you do to proactively protect your investment, the less money it will cost you down the line to make required repairs. Regular maintenance also helps you to get your boat ready for the season so you don't miss out on any time that you could be out on the water because your boat is dry docked and getting work done on it.
Trust Brownell Boat Stands for Your Vessel
To learn more about our wide range of products, including fold-able sailboat stands, motorboat stands, keel stands, boat dollies, boat lifting systems, trailer components, adjustable trailer pads, trailer wedge stands and pads, engine racks for marine engines and, of course, our well-known Brownell Boat Stands, contact us at our Mattapoisett, MA location. Give us a call Toll-Free in the United States or Canada at 1-800-533-8433, or by calling 508-758-3671.