Store and Winterize Your Motorboat: Top Quality Boat Stands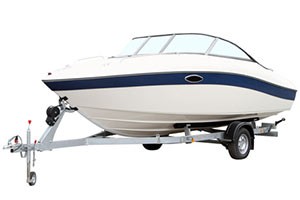 One of the most important things you can do to protect your motorboat is to winterize it each year before the first freeze hits. Using top quality boat stands to protect your boat from damage during the off season is a great place to start, but there's a lot more to it than that. When choosing boat stands made in the USA, it's hard to beat Brownell boat stands, which ultimately invented boat stands as we know them today. From trailer components to other types of stackable boat stands, it is important to have all of the tools you need available at the boat yard when you need them.
Do It Right – Or Don't Do It At All
There's nothing quite like doing all the maintenance and servicing on your motorboat, only to find out that you stored it improperly and it got damaged in the off season. Unfortunately, this happens to hundreds of boat owners each year. A little bit of knowledge and a lot of care and attention can help to prevent these types of accients from happening. Common issues seen at boat yards in areas where it freezes and snows, include top quality boat stands that dug into the mud and toppled over, all because they weren't properly supported with wood and chains in the face of inclement weather.
One study conducted by a marine industry expert revealed that boats were three times more likely to become damaged due to mishandling when on dry land than they were as a result of an accident while out on the water. Three times! Going cheap on jack stands is one of the leading causes of boat damage as well. Failure can damage boats by making them suddenly fall when stored or become damaged when they blow over in a storm. Make sure to use top quality boat stands from Brownell boat stands, made in the USA, which can be used in conjunction with Brownell stackable boat stands, trailer components and our TLC boat pads.
Other boats get damaged each year due to misuse of boat stands. Even the best top quality boat stands can't do much for you if you don't use enough stands to provide the proper amount of support underneath the hull. Boats that don't have enough support from stackable boat stands underneath the hull can become distorted, which can result in poor engine alignment, impaired performance and other serious problems. Damage that is caused due to storms or other sudden accidents are usually covered by insurance, while damages that occur slowly over time, such as wear and tear, are typically not covered.
How to Winterize Your Boat
A boat that is properly stored on top quality boat stands made in the USA and properly winterized for the off season will be just as safe and comfortable as a boat that is stored in the water during fair weather. Advantages to storing a boat on dry land include a reduced chance of developing blisters and other issues or experience sinking when stored on high ground. When you look for a boat yard in your area, don't forget to speak with the staff to find out what type of top quality boat stands and trailer components they use. If possible, ask if you can use your own boat stands made in the USA instead of the standard stands provided by the boat yard.
Part of winterizing your motorboat is making sure that the jack stands are installed and used properly. Boat stands made in the USA by Brownell should be used according to the blocking plans provided by the manufacturer. You can also work with the yard manager to determine how many stands are required, where the blocks and jack stands should be placed for best results. Brownell has quite a few plans and ideas that boat owners can use to ensure that they have the best possible support. You can also work closely with the yard manager to ensure that everything is placed according to the manufacturer's instructions.
Choose Brownell Boat Stands Year Round
Whenever you need to take your motorboat out of the water, make sure to use Brownell products. With Brownell, you know you can count on the top quality boat stands made in the USA to provide you with consistent protection. Make a copy of the plan that you get from the manufacturer and keep a copy on hand just in case you need it.
To find out more about Brownell boat stands and the Brownell boat stand system, give us a call at +1-508-758-3671. Our products are made in America from top quality American steel to provide you with long-lasting, great-looking, durable results. Contact us today or visit our website to use our boat stand selector tool to find out which products will work best with your unique situation.