Stackable Boat Stands: Best Storage Options for Motor Boats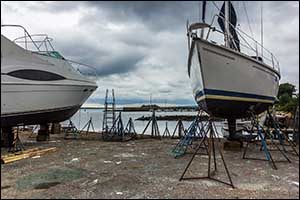 Whether you store your boat in an outdoor boatyard, indoor storage facility, or in a rack environment, you want to make sure that your vessel is protected, properly supported, and that you have a good cover. While there are other things to consider with off-season storage, such as winterizing your motor and protecting the interior and exterior of the boat, these are some of the most crucial. Have a plan and strategy in place to protect your boat whenever it is out of the water to make the transition easy and worry-free.
Proper storage isn't just a "winter" thing. Boat owners will frequently have to take their vessel out of the water for maintenance, repairs, cleaning, painting, or other reasons. Stackable boat stands are helpful because they can be easily stored and put away when not in use, but provide stability required to protect your boat when out of the water. Motor boat stands, keel stands for boats, and other types of boat stands for sale can be purchased through Brownell or an authorized dealer near you.
Options for Boat Storage
If you live near the water, you are probably already aware of the different options available for boat storage in your local area. However, if you travel to the water to use your boat, you might not be familiar with all of the professional facilities and storage options that can be used for motor boat, sailboat, yacht, and personal watercraft. It is important to take time to consider all of your options, based not just on price, but on the services that are provided. For example, some boatyards will allow work to be done on-site, while others may offer some basic services included as part of your monthly fee.
DRY DOCK STORAGE – Storage racks are used to vertically store boats. This is a popular option in areas where there is not a lot of real estate available for boat storage in the off-season or for vessels that are not currently in use. Many of these facilities use forklifts to hoist boats up onto storage racks. Boats can quickly be put up or taken down, depending on your needs. Ask about additional services, such as maintenance options or on-site fueling to help get you out on the water as quickly as possible.
STORAGE UNITS – A costly solution to boat storage, but some boat owners feel better about placing their vessel at a boat storage facility. Indoor facilities are a hot commodity and can be quite expensive. Temperature controlled units provided additional protection to boats stored at these facilities but will cost even more. Regardless of the storage situation that you choose, make sure to give any required winterization, cleaning, maintenance, and use a proper boat cover or shrink wrap solution to effectively protect your boat while not in use.
OUTDOOR STORAGE – Whether at a boatyard or other type of storage facility, this is often the most affordable solution available for boat owners. If you have room on your property and don't have HOA rules or local regulations that prevent boat storage on-site, you can even store your vessel in your own backyard. With outdoor storage, some type of shelter, tarp, or custom cover is highly recommended to protect your boat during the off-season.
INDOOR STORAGE – Similar to the storage units mentioned above, some marinas are now offering indoor storage to customers. Whether temperature-controlled or not, these options can be the best solution for boat owners who don't have time to figure out other solutions but have the money to invest in professional storage services. Ask about video surveillance and on-site security to ensure that you get the maximum value from this type of solution.
Motor Boat Stands and Support
Regardless of the type of facility or storage option that you choose, you will want to make sure that your motor boat is properly supported while it is out of the water. Boat stands for sale through Brownell provide quality and reliable results. Keel stands for boats to provide primary weight support and motor boat stands, chosen based upon the make, model, and length of your vessel will provide the best solution. Stackable boat stands can be easily stored when not in use to allow for quick access to boat stands and support units. Not sure what type of boat stands you require or how many? Visit the Brownell website and use our Boat Stand Selector tool. You can also contact our facility in Massachusetts at 508-758-3671 to speak with a representative or to find an authorized dealer near you.