Smart Boating: How to Prep for Off-Season Storage Right Now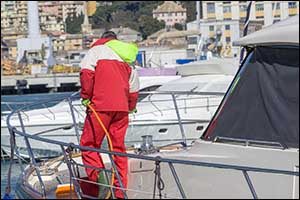 Boat owners have a lot of responsibilities throughout the year to keep their vessel in tip top shape. Protecting your investment and all of the joy that your boat brings should be a priority. Choosing the right options from the Brownell Boat Stand System can help, including motor boat stands, yacht stands, TLC boat pads, and boat lifting systems, but the more you can do year-round to keep your boat properly maintained, the easier it will be to winterize it for storage after those summer days are long gone.
Boats of all kinds require occasional maintenance, including mechanical and aesthetic work. You want your boat to look great, but you also want to protect the mechanical systems that are used to operate it to ensure that they are at peak performance. The more maintenance and work that you put into your boat from the time that you get it, the longer life you can expect to get out of it and the easier it will be to prevent costly repairs throughout its lifetime. Knowing what needs to be done – and when – is half the battle. Start working on your boat now while the weather is warm to make sure it is ready for storage this winter.
Seasonal Maintenance Requirements
Start by checking the owner's manual to ensure that you are well-versed in all of the manufacturer recommendations for your vessel. A sailboat will need different services than a motor boat, but many of the basic maintenance will be quite similar. Different types of coatings, such as epoxy, gel, or varnish, may also need extra attention. Your location will also influence the type of work that needs to be done for protection, as well as the type of water, whether fresh or salt. The salinity of salt water can impact the integrity of your boat in many ways, but fresh water can also cause issues that must be addressed.
SPRING Maintenance – When you unpack your boat, remove the cover, and take the first look, make a list of all the things that you will need to inspect, check, clean, and maintain before you can get your boat out onto the water. If you used the Brownell Boat Stand System with motor boat stands or yacht stands, take a look at all of the stands, keel support, chains, and blocks to make sure everything is in good condition. Spring commissioning of your boat should be done in a systematic and orderly fashion to make sure you don't overlook any essential components. Scrub your boat from top to bottom to remove any dirt or dust that may have found its way underneath the boat cover. Add a fresh coat of wax and flush all of your freshwater systems of any antifreeze or additives one at a time. Create a checklist to help you keep track of what needs to be done and then check each item off as completed.
SUMMER Maintenance – While most boat owners don't want to waste summer weather on maintenance, there are little things that you can do to keep everything in order between uses. Building good habits, such as washing down your boat after every use, will help to keep your finishes to last longer. A couple of times through the season, take a moment to rinse and flush your sanitation system to prevent odors from building up and scrub the bilges every now and again to reduce the amount of work you'll need to do during the winterization process. Basic engine maintenance, such as checking the oil and filters, performing changes at the recommended periods, and doing cleaning and polishing to keep everything looking great is all that is needed.
FALL Maintenance – As the weather begins to get cool again, you might start turning your thoughts toward winterizing your boat. Ensure that you have the proper boat lifting systems, motor boat stands, and yacht stands from the Brownell Boat Stand System. You can use our easy boat stand selector tool on our website to find the right size, combination, and the number of stands or support products required for your vessel. Check your trailer if you haven't used it a lot over the summer to make sure that the tires are in good condition and that all of the wedge pieces and components are not rusted or breaking apart. When the time is right, winterize all of your boat's mechanical systems, remove all gear and clean the interior and exterior of your vessel, put on the custom boat cover or have it shrink wrapped professionally, and remove all batteries to be stored at home and keep them in good shape all winter long.
WINTER Maintenance – Make sure to visit your boat and check on it from time to time during the off-season. If you have work that needs to be done, consider having it done during this time so it will be ready again for the spring and summer season. Create a "fix it" list of things that you want to do to upgrade or improve your vessel and take time to work on things like trim or brightwork that can be done at home during the winter months. Try to avoid projects that can be hindered by the colder weather that involve things like sealants, caulking, or other compounds that work better in warm temperatures.
The Brownell Boat Stand System
For more than 50 years the Brownell Boat Stand System has provided boat owners and professional marine industry businesses with top quality motor boat stands, yacht stands, keel support equipment, boat lifting systems, and other essential components. Build a custom solution for your vessel by visiting our website at www.boatstands.com or by calling one of our team members at 508-758-3671 to find an authorized dealer near you.