Small Craft Care and Transport: High Quality TLC Boat Pads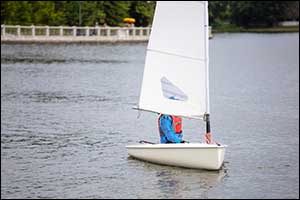 Boats of all shapes and sizes require proper care and attention to help keep them looking and performing as they should. Any vessel is an investment, so it is in your best interest to protect that investment by taking all of the necessary steps to safeguard it both in and out of the water. The use of a personal watercraft dolly or other alternate marine dollies can make it easier to make repairs and perform required maintenance throughout the year. Adjustable trailer pads can help boat owners build a custom cradle to protect small craft during transportation or temporary storage situations. Whether you use dollies, trailer components or Brownell boat stands with your small craft, make sure to include our high quality TLC boat pads for optimal protection.
Small Craft Dollies
Personal watercraft, dinghies, and other small vessels require special equipment to make launching, loading, maintenance, and transportation a lot easier. Our Small Craft Dolly (SCD1) is designed to help reduce the time and effort required to transfer your small craft to and from the water. Like all other Brownell products, this equipment features our heavy-duty American steel construction, an adjustable width, and can support up to 2,000 pounds. It features non-marking wheels, which makes it ideal for use in showrooms, workshops, boat shows, and production facilities. Used by individual small craft owners, manufacturers, and marine professionals alike, our Small Craft Dolly can be fitted with our high quality TLC boat pads via the legendary adjustable screw pads, for comprehensive protection on dry land.
Pontoon Dollies
Brownell currently offers two distinct boat dollies designed for use with pontoons or tritoons, depending on your needs. The PD2 model is protected with our traditional painted blue finish and features a frame that is 19 x 19 x 5 inches with four-inch, non-marking phenolic casters and a foam padded top for maximum protection. The PD3 model can be used with pontoons, tritoons, and other high-performance sport boats. It features an increased ground clearance and open center section to simplify the loading and offloading of trailers. It has a load capacity of 3,000 pounds but weighs just 59 pounds for easy use and storage. The adjustable width of this model allows for customization, and the non-marking casters and 24-inch long bunks help to distribute the load of the vessel while protecting it when out of the water.
Adjustable Trailer Pads
When transporting your small craft, make sure to use the right equipment for your trailer as you would in the garage or storage facility. Adjustable trailer pads, much like a personal watercraft dolly, should be sized and configured according to your needs. In addition to alternate marine dollies, Brownell also sells several types and sizes of trailer components that can be used to effectively transport your vessel. Designed to protect your boat's finish and ensure proper drainage for the hull, make sure to include our high quality TLC boat pads with every order for maximum results. Taking care of your small vessel doesn't have to be a struggle. Make it easier with proven products and equipment from Brownell.
Regular Maintenance and Care
While there are a lot of tips out there for large sailboats, motorboats, and other vessels, you don't see a lot of information regarding the regular maintenance and care of small craft. Whether you own a small sailboat, rowboat, canoe, kayak, pontoon, or aluminum motorboat, make sure to take the time to learn all you can about the required maintenance from the owner's manual. If a manual is not available, contact the manufacturer or visit their website for specific instructions on winterizing, transporting, and ongoing maintenance that should be performed for best results.
Maintenance is essential to protect your vessel from many different types of damage that can be caused by neglect. By taking a pro-active approach to boat maintenance, you can take care of most small issues before they become big, costly problems. Take care to use alternate marine dollies or a personal watercraft dolly in the workshop, storage facility, garage, or other storage areas whenever your vessel is out of the water. Adjustable trailer pads and trailer wedge stands can be used to create a custom transport system for your boat. The use of high quality TLC boat pads can further protect your hull from damage and keep your finish looking brand new.
Trust Brownell Boat Stands
Regardless of the size and type of your vessel, Brownell has a solution designed specifically for you. Choose from a wide range of boat stands, keel support, adjustable trailer pads, alternate marine dollies, high quality TLC boat pads, and other products to protect your craft whenever it is out of the water. Maintenance, repairs, painting, cleaning, winterizing, storing, and transporting your vessel means having it on dry land, which is where the majority of accidents of damage can happen. Take time to learn which methods and equipment are best for your small craft and use them in the proper way to maximize the return on your investment. To learn more about Brownell products, visit our website at www.boatstands.com or give us a call at 508-758-3671.