Seasonal Maintenance & Best Engine Racks for Marine Engines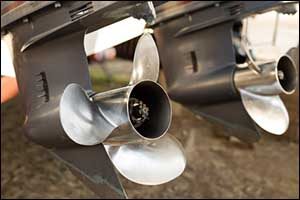 When it comes time to provide seasonal or routine maintenance for your outboard motor, it pays to have all the right equipment. You use sailboat jack stands with a solid steel Acme threaded center rod, motor boat stands and staging ladders to protect your vessel when it is out of the water, so it only makes sense to use top quality engine racks for marine engines. There are a lot of DIY tutorials on the internet that talk about building your own engine rack. But when you think about how much money is invested in your outboard engines, there's no reason to leave it up to chance by placing it on a stand or rack that wasn't designed specifically to store engines.
The Brownell Difference
If you are looking for top quality racks and stands, Brownell has four distinct solutions that can be used for servicing or storing your outboard motors. Our Outboard Storage Rack is made from heavy duty steel construction and is protected with our traditional painted blue surface coating. It is suitable for engines up to 150 HP. We offer two stern drive racks, one that is designed to handle up to four units and another that is designed to handle up to seven. Both are made with heavy duty steel construction and are coated with our traditional blue paint finish. They also feature 5-inch swivel casters with brakes for easy maneuverability.
Our fourth product is the Brownell Stern Drive Installer, which is a three-ton jack designed to safely and easily remove or install stern drives. This helps you save time and labor on trying to do this work yourself. Coated surfaces for added protection, pneumatic wheels and heavy duty design for easy use, this product is made with the same top quality workmanship as the Brownell Boat Stand System. All of our products are made right here in the USA using American steel. You can learn more about all of these products by visiting our website at www.boatstands.com or by contacting us at the number below to find an authorized dealer near you.
Tips for Marine Engine Care
Don't just care for your outboard motor right before you head out to the water. Regular preventive maintenance will help keep your motor running beyond the basic expectancy. Make sure to always follow the manufacturer's instructions for maintenance and care. Keep good records of all the maintenance and servicing that you do, marking down everything that you do and the products that you use, so you'll know exactly what to do the next time.
Some of the maintenance that you should perform before a trip includes:
checking the fuel tank to make sure the vent is open and that the tank is full
top off the oil tank, if your engine has one
inspect the water intake pickup to make sure that it is clean
check the propeller, which can get tangled in seaweed and fishing line
inspect the seal on the lower unit to make sure it is not deteriorating
Some of the maintenance that you should perform after a trip includes:
flush out the engine to remove sand, dirt, gravel and salt
rev the engine up to 2,000 RPM and allow it to run up to operating temperature
consider removing the propeller during flushing
inspect the water pump for flow, checking for debris if output is weak
disconnect the fuel line to allow all the fuel to be burned out of the carburetor
wipe down your engine and spray with WD-40, lubricating all moving parts
store on engine racks for marine engines and cover with plastic or canvas in storage
store your vessel on the motor or sailboat jack stands, using proper staging ladders with solid steel Acme threaded center rods, and use according to manufacturer's recommendations for safety
Trust Brownell Boat Stand System for Ongoing Maintenance
There are lots of great tools that you can use from the Brownell Boat Stand System. Our stackable boat stands in traditional blue and orange, pads that feature solid steel Acme threaded center rods, engine racks for marine engines, plus other top quality equipment, can help to achieve your goals in style. Give us a call at 508-758-3671 to find an authorized dealer near you or use our Boat Stand Selector tool on our website.