Seasonal Boat Storage: Brownell Stands, Keel Stands & Benches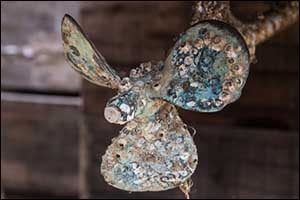 The more you can do to prepare your vessel for seasonal storage, from the very moment you take it out of drydock and every trip that you take out on the water, the easier it will be to winterize it and store it at the end of the summer. Your boat is not just a financial investment, but an investment in the future fun and memories to be made with family and friends. If you live in an area where you need to place your boat into storage to protect it from the realities of winter, the steps you take to prepare your boat before you place it on foldable sailboat stands, motorboat stands, keel stands and benches, matters.
Start making plans as soon as possible. If you don't have a boatyard, marina, or some other type of marine-friendly storage facility already secured for the end-of-season, do it as soon as possible. Avoid that last minute rush to get your boat into a safe and reputable service and storage center. All the good ones will be gone by the time that first orange-colored leaf falls, so make sure you do it before the dog days of summer are behind you. If you aren't sure where to go, speak with fellow boat owners where you dock or learn where to buy boat stands in the area if you are thinking about storing your boat at home yourself. Whatever your plans, take care of all the details as soon as possible.
Check Things Out on the Water
The best way to determine whether your boat requires additional maintenance or repairs before being placed into storage is to get it out on the water. Even if you don't have plans to take a final trip, just get out there so you can check things out. Sometimes, when we are buys waterskiing, fishing, or just seeing the sights, we aren't as aware of the sounds of the engine or the performance of the vessel as a whole. So whether you decide to combine your "last trip out" as a pleasure cruise or merely as a way to perform an inspection, this is something that definitely needs to be done. Getting those repairs done before storage is essential, as the temperatures and weather of the winter months can make small issues into significant and costly problems.
Perform a Thorough Cleaning
You could hire someone to do this bit for you if you are short on time, but a comprehensive cleaning needs to be done before you put your boat in storage. Remove the bilge drain plug and give the entire boat, decks, hull, and all, a really good, deep down scrub. This will help you get all of the grime, slime, and barnacles that have built up throughout the season. Check and clean everything, including the strainers and the through-hulls; open up the seacocks and drain them thoroughly. The interior of the boat deserves your attention as well, removing any leftovers from the refrigerator lockers and scrubbing out anything that might spoil or attract pests over the winter months.
Dry the Boat Completely
Take the time to put your boat up on motorboat stands, foldable sailboat stands, keel stands and benches so it can be thoroughly dry before going into storage. All water needs to be drained away from the boat, and all accessories, components, and interior equipment should be dried after the cleaning process as well. One trick to get the water to drain out faster and more effectively is to raise the bow slightly. Once everything drains, time is needed to allow moisture to evaporate before the boat is shrink wrapped and put up on stands or racks for storage. You can add extra protection with the use of mildew control products that can be placed inside the cabin and storage areas.
Perform Maintenance & Winterizing Services
Again, you can either do this yourself or hire someone to do it. If this is your first season, make sure to read the manufacturer's recommendations for winterizing and follow them to the letter. Do not skip steps or substitute anything that the manufacturer deems necessary for winterizing. If you cannot locate the owner's manual or get information from the manufacturer, consult with a professional. End-of-season maintenance and winterizing is a very important part of boat ownership, and if not done correctly, severe damage could occur to your vessel. Once you learn where to buy boat stands, ask the professionals on-site about local providers of quality maintenance services. This can help you to ensure that you are working with the very best to guarantee quality results. Don't trust these services to "just anyone" down at the marina; make sure you are hiring a professional.
Learn More About Brownell Boat Stands & Products
If you would like additional information about the Brownell line of motorboat stands, foldable sailboat stands, keel stands and benches, as well as our other top quality marine products, give us a call at 508-758-3671. We can answer any questions that you might have about the Brownell Boat Stand System or tell you where to buy boat stands in your local area. Call today and see why so many boat owners and industry professionals trust the Brownell name for boat stands and storage equipment all around the globe.