Sailboats for Beginners: Buying a Boat, Yacht Stands and More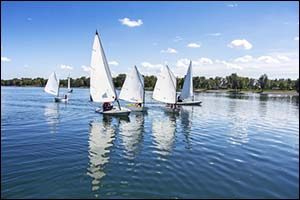 So you've finally decided to start shopping around for a sailboat, something you have always wanted since you were a kid. Before you rush out and buy the first one you see, it is a good idea to take sometime and learn about the different types of sailboats. Whether you get a large boat or a smaller vessel, you will also need to choose a boat stand manufacturer and make sure that you have high quality TLC boat pads to protect it when it is out of the water. If you don't have space to store your sailboat in the off-season, you will need to find a boat yard.
You will also need to find out about local requirements for licensing, insurance and transporting your sailboat from storage to the sea. While it might feel overwhelming, once you start talking sailboats and doing a little bit of research, it will all make sense. A little bit of knowledge will even help you know whether you need yacht stands of foldable sailboat stands for maintenance and storage purposes; the more you know, the better equipped you will be both on and off the water.
Questions to Ask Before Buying a Boat
One of the best ways to figure out what type of sailboat you want and need, is to ask yourself a series of questions. First and foremost, you will want to think about your experience level, how much you are willing to invest and personal decisions about how you want to use the boat.
Have you ever sailed before? Do you know how to sail?
How much money do you have to spend?
Do you want a new boat or a fixer-upper?
How many people do you want to go sailing with you?
Is it just a one-person hobby or something for the whole family to enjoy?
Where will you be sailing? Fresh water or salt?
Will you sail locally near your home or will this craft be for vacation?
Do you know how to maintain your boat or will you need to hire someone to do the work? Where will you store your boat?
Do you know how to choose a boat stand or where to purchase yacht stands, foldable sailboat stands and high quality TLC boat pads?
Do you know what maintenance is required for a sailboat in order to protect your investment?
These are all questions that you need to ask before you even start shopping around for a new or used sailboat. Answering them will help you define your own interests and steer you toward the type of vessel that you will be able to get the most use out of and enjoy. You don't want to get in over your head with a boat that is too hard to maintain or costs too much to launch and store, but then again, you also want to make sure that you have a boat that is big enough to fit the whole family.
Try Out Some Boats
There are a couple of ways that you can actually get out on the water and try out some boats before you make a decision on buying. Rent sailboats from local marinas and seaside resorts. Contact area sailing clubs or get in touch with local boat builders to find out if they have any opportunities for you to try out some boats. Once you have been out on the water a few times, you will either know what you want or will decide that sailing is not right for you. Who knows, you could be someone who gets seasick out in the waves!
Some of the different types of boats for your to explore, include:
beginner boats for learning how to sail
specialty boats that are designed for people who are physically disabled
youth boats for young people who want to learn how to sail
intermediate boats are great for those who have mastered the basic skills
expert level boats for more advanced sailors
family boats with room enough for everyone on-board
single-handers or boats that are designed for one person
dinghies are great for easily putting in and out of the water
yachts or keel boats are large boats designed to go way out to sea
Once you figure out the type of boat that you want to get you can shop for yacht stands, foldable sailboat stands or visit a dealer to choose a boat stand that will suit your needs. Accessories designed to protect the hull of your boat while it is maintained or in storage include high quality TLC boat pads, which are part of the Brownell Boat Stand System.
To locate a Brownell Boat Stand dealer near you call 508-758-3671. You can also use the Boat Stand Selector on our website to help you choose a boat stand and get an idea of what to expect with regard to pricing. We have a wide variety of yacht stands, foldable sailboat stands, keel support, boat pads, trailer accessories and much more to help you take good care of your vessel.