Sailboat Safety in Autumn: The Best Boat Stands for Storage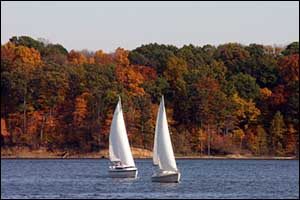 Fall can be one of the most exciting and challenging times of the year for sailing. While many boat owners are ready to winterize and put their boats into storage, others are excited about getting out on the open water during this unpredictable season. If your goal is to store your boat until spring, choose quality boat stands for sailboats, such as the American boat stands available from the Brownell Boat Stand System. Yacht stands, foldable sailboat stands, as well as keel stands and benches, can all be selected via our website based on the make, model, year, and size of the sailboat that you own. However, if you are ready to get out on the water and make the most of the fall season, you should check out the safety tips below.
Personal Flotation Devices
While PFDs are important all year-round, they are even more crucial when the weather gets rough. Your flotation device should be comfortable, so if yours is getting too small or has loosened with age, it's time to go shopping for a new one. Brand new models are released each year by the top manufacturers, so there's no excuse not to have one that is easy to use and comfortable to wear.
Make a Plan
File what is known as a "float plan" with someone you trust. You can send it as a text or an email to a friend or family member, but you could also just leave a note on the dashboard of your vehicle at the marina. If you want to take a look at a "sample" float plan to use as your guide, you can visit the U.S. Coast Guard Auxiliary's website for ideas. They also have other tips that you can use to your advantage for all-season boating.
Better Safe Than Sorry
Even if you have been sailing for many years, it's a good idea to take a boater safety course as a refresher. You can find a list of courses available all across the country on the American Sailing Association's website. There are also courses available online at the Boat U.S. website if you are unable to take a class in-person. While not required by law, a boater safety course is helpful to sailors of all levels and backgrounds.
You might be surprised to learn something new, as ideas about safety often change and evolve over time. For example, there are different ways to use boat stands for sailboats, yacht stands, and keel stands and benches. You can learn a lot just by visiting our website guide on American boat stands and using our Boat Stand Selector at www.boatstands.com.
Practice Makes Perfect
Well, perfect may be an exaggeration, but practice can give you more confidence in your abilities and help you to be a better boater. For example, taking time to practice reefing, man overboard drills, and establishing a plan to get your skipper or crew back onboard can be helpful in the event of an emergency. If you already know what to do, it will be much easier if it happens in real life situations. Reading tips and information on sailing, as well as spending time with experienced sailors, can also help to improve your knowledge and abilities.
Smart Sailing
We often see photo shoots of people out on boats drinking alcohol and partying while on the water. However, the truth is that the sun, waves, and the wind can all work to increase the effect of alcohol, not just on the person sailing the boat, but on all the passengers as well. Save your alcohol for when you arrive at the shore or dock your boat for the rest of the day. It will be more fun for all. If boating at night, slow down and use a spotlight or enlist a spotter, to ensure that you can navigate well, even in an area that you travel frequently.
Dress for Success
Fall boating can be a lot of fun, but it is important to think of your safety. Dress appropriately and bring extra clothing, especially if you will be out on the water for many hours at a time. The air and water temperatures begin to drop quickly as summer turns into fall, so it's a good idea to bring a wetsuit, dry suit or bring a protective shell for extra insulation.
Winterizing Your Boat
When the time comes to bring your sailboat in for the winter, make sure you have all the gear you need to protect it out of the water. American boat stands from the Brownell Boat Stand System can help you to provide proper support for vessels of any size. We sell a broad range of yacht stands, foldable sailboat stands, keel stands and benches, as well as boat stands for sailboats. Visit our website to use our Boat Stand Selector or give us a call at 508-758-3671 to find an authorized dealer near you.