Safe Methods for Getting a Boat Off of a Trailer on Dry Land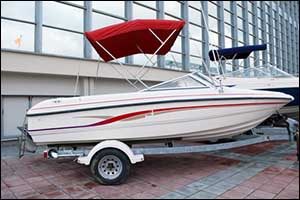 If you look around online, you will see lots of photos and videos of what NOT to do when trailering a boat or trying to remove a boat from a trailer at home. Thankfully, the Brownell Boat Stand System has a little something for everyone, including trailer-mounted boat lifts, manual boat lifts, hydraulic boat lifts and engine handling products. Then you can choose from a wide range of galvanized boat stands or painted boat stands to support your vessel so you can paint the hull, perform maintenance or just store it indoors during the off-season.
While some boat owners prefer just to leave their boat on the trailer when it is out of the water, there are situations where you might need to remove it. It's a good idea to have a strategy in mind ahead of time so you will know what to do when the time comes. The Brownell Boat Stand System also includes nested boat stands in a variety of sizes, providing durable land protection for your vessel that can be easily stored away when not in use. Visit our website to use our Boat Stand Selector tool to find the painted or galvanized boat stands that are right for the make and model of your boat.
Method #1 – Brownell Trailer-Mounted Boat Lift
If you are looking for a very safe, stress-free way to lift a boat that weighs up to 10,000 pounds and need to lift it 12-inches or less up from the trailer, this could be the boat lift for you. Boat owners can use this lift to apply paint to the bottom of the boat or do routine maintenance. It is also helpful in getting a boat up onto the Brownell Boat Stand System for storage or more extensive maintenance work.
This tool includes four trailer lifts and is designed to fit trailers that have a beam height of 2-3 inches in width or 4.5-5.75 inches in height.
Just attach the four lifts to your trailer and position them under the four strongest areas of your boat, including the hull chines, stringers, and the transom. The load of the boat can be balanced by turning the adjustable rod on each of the lifts. Only turn the rod one-half of a turn at a time to prevent doing damage to your boat. As the boat lifts higher, you can rest assured that it will be stable and secure, due to the trailer lifts. If you need to remove the outboard motor for maintenance, cleaning, and storage, check out the engine handling products available on the Brownell Boat Stands website.
Method #2 – Brownell Manual Boat Lifting System
If you are looking for a quick, yet safe method for removing a trailer from underneath a boat that weighs up to 5,000 pounds, this might be the tool for you. Great for boat owners who want to paint, repair or store their vessels or do repairs and maintenance on the trailer. Made from heavy duty American steel, this product is painted the traditional blue-and-orange for long-lasting durability and extra protection from the elements.
The lifting range for this particular manual system is 19-37 inches and it is designed to accommodate trailers that are up to 103 inches wide. This tool includes two adjustable stern stands, a steel lifting beam, two adapters and two bow lifting stands.
Method #3 – Brownell Hydraulic Boat Lifting System
The easiest method by far for removing a trailer from underneath a boat is to use this hydraulic boat lifting system. Made from heavy duty American steel, this features a galvanized coating just like our hot tip galvanized boat stands. Each jack has a workload of up to 3,000 pounds. We recommend that you use a system of four jacks to lift a boat that weighs up to 12,000 pounds safely and effectively. This system includes adjustable safety stops that can be used for both the jack and the lifting arm for more controlled lifting.
This tool is completely adjustable at the jack base. It has a lifting range of 21-50 inches, making it the perfect choice for putting a boat up onto the Brownell boat stand system, using nested boat stands or galvanized boat stands of your choice.
Contact Brownell for a Dealer Near You
If you are interested in the Brownell Boat Stand System or would like to shop for any of our fine products, including boat stands, lifting systems, engine handling products, and adjustable trailer pads, give us a call at 508-758-3671. You can also use our handy Boat Stand Selector on our website to find the best boat stand options for your particular vessel.