Regular Maintenance for Boat Stands and Trailer Components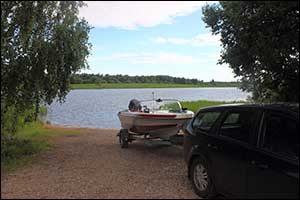 The equipment that you rely on for the safe storage and transportation of your vessel requires regular inspections, maintenance, and cleaning. American boat stands, engine handling products, and trailer components all need a bit of TLC now and then to help you maximize the return on your investment and ensure the protection of your boat. The cost to winterize a boat is worth it when you understand all of the ways that your vessel could be damaged if you don't do it right. Everything from the cover that you choose to the boat stands and keel support that you pick from our boat stand selector should be done with the utmost of care and consideration. While the maintenance for these products is minimal, much like your boat, if they are not taken care of, they won't last very long.
Why Maintenance is Essential
Everything that you use to move, lift, store, and transport your boat should be thoroughly inspected, cleaned, and tested before each use. It should also be cleaned and checked before it is put away after use, for best results. Everything from your American boat stands to engine handling products comes in contact with a wide variety of cleaners, damaging saltwater or dirty freshwater, oils, fuels, and chemicals. Consider everything included in the cost to winterize a boat and how those products might impact the steel that is used in your equipment. While all Brownell products are either traditional blue painted or galvanized to protect the metal from damage during use, there is no 100 percent foolproof solution, so everything must be checked from time to time.
When it comes to trailer components, take time to inspect and take care of your trailer. Studies reveal that trailers are often the most neglected piece of equipment that a boat owner owns, yet it is instrumental in protecting the vessel that they invest so much time and money in during transportation. Imagine being out on the road with your boat, only to discover that something has malfunctioned or given way out on the highway. Your boat could be seriously damaged – or totaled – and you would only have yourself and your lack of maintenance to blame. A simple multi-point inspection of your boat stands, trailer equipment, and engine handling products, can save you lots of time and money in the long run. Many boat owners create checklists to help them stay on top of simple tasks that can be forgotten while rushing to get on the road and get their boat in the water.
Brownell Trailer Components
Most of the products that we design, manufacture, and sell were created with the idea of helping boat owners and marine professionals to protect boats and keep them safe while they are out of the water. Ease of use, strength, durability, and time-saving applications are just some of the features associated with our American boat stands and engine handling products. Our trailer components were created with the same goals in mind. We sell two types of trailer components that can be used to protect your vessel during transportation. The first is the Brownell Adjustable Trailer Pad, which is available in three distinct sizes, including 16 inches, 23 inches, and 27 inches. All of our pads are designed to protect the finish of your boat and to provide proper drainage, which is required to eliminate moisture on the hull.
You can upgrade any of the pads on our Adjustable Trailer Pad with our TLC Pad, which can be mounted to any Brownell boat stand or adjustable trailer component. Brownell TLC Pads feature a TPE surface, which is designed to protect the surface of any type of boat, including fine wooden crafts to boats that feature a gel or epoxy coating finish. Make sure to ask about our TLC pads when you purchase any of our American boat stands or trailer components.
The second trailer component that we sell is the Brownell Wedge Stand. This item is designed to provide you with the unique opportunity to build your own cradle on a trailer for optimal protection. When it comes to trailering your vessel, you will quickly find that a custom solution is often best. While many boats will work with a one-size-fits-all product, others require something that is specifically designed to accommodate their special features and needs. The Brownell Wedge Stand so you can mount it to a cross member, bolt it to a trailer frame, or fasten it to a wooden beam. Finished in our traditional blue paint for long-lasting durability, choose from two usable positions that can be adjusted with our ACME steel threaded rods. Make sure to visit our website to read more about these essential components.
The Cost to Winterize a Boat
Whether you are hauling your boat to storage for the off-season or taking it out to the water, the best way to ensure the safety of your vessel is to use the right equipment. From engine handling products to top quality American boat stands, Brownell helps boat owners to have all of the tools they need to achieve their goals. When you consider the cost to winterize a boat, you might not think that another piece of equipment will be in your budget; but the truth is that you can save time and money when you have the right tools at your disposal. Stop paying someone else to winterize, lift, haul, and maintain your boat. You can do it yourself with the help our boat stand selector tool and the Brownell Boat Stand System. Check out our full line of products and tools at www.boatstands.com or give us a call at 508-758-3671 to find an authorized dealer near you.