Quality Boat Stands: Take Care of Pontoons in the Off-Season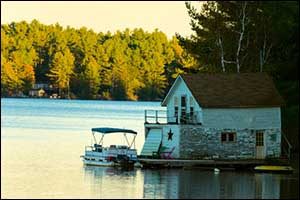 When it comes time to put your pontoon boat way for the winter season, it pays to take time to do all of the maintenance, repairs and winterizing services required to protect it and prepare it for the spring. While it is not a lot of fun to spend a day winterizing your boat, it will undoubtedly pay off when it comes time to get back out on the water after the snow and ice all melt away. It is important to know all of the steps required to properly maintain your boat so you don't miss anything that could cause problems when the weather gets cold.
You will need some equipment during maintenance and storage, including boat dollies and specifically steel pontoon boat dolly equipment to protect your boat when it is out of the water. Brownell Boat Stands carries a broad range of top quality boat stands, pads, dollies, and more that you can use in the maintenance and repair of your vessel. Below you will find a basic guide to taking care of your pontoon boat at the end of the season, but to make sure you don't skip an important step, be sure to consult your owner's manual to see what the manufacturer recommends.
Step One: Cleaning
The first thing you need to do to put your boat away for the winter is to clean it really good. The interior and the exterior both require your attention. Begin by removing all of your personal belongings and equipment. That means flotation devices, emergency kits, safety gear, water sports equipment, and fishing tackle. If it's not bolted down, it's time to take it out. Store all of your gear safely during the winter months according to the manufacturer's recommendations to make sure it doesn't get damaged or become a hazard during the off-season. If you have any non-factory electronics, remove those as well. Anything that has batteries or electronics should be brought indoors during the winter.
Clean everything from the cushions to the floors, removing any remnants of food, fish guts, dust, dirt, and debris. Wipe everything down with an approved cleaner and polish, making sure that everything dries completely before you move on to the next step. All of this is with the idea of preventing mold or mildew from growing inside of your boat and making sure that there isn't anything left behind to attract insects, rodents, or anything more substantial. Some pontoon boat owners will also spray or put out traps for prevention, depending on where they will be storing their pontoon boat. Use top quality boat stands or a steel pontoon boat dolly to keep your boat up off the ground and protect it during the winter months.
Step Two: Check the Exterior
Now that everything is removed and cleaned, it's time to check the exterior for damage or for any mussels, plants, and critters that might have latched onto the bottom. Take the time to remove them now because if they stay on there throughout the winter, they will be much harder to remove in the spring. Hose down the exterior again after removing the debris and then consider applying polish to the sides and underneath the boat to protect it from corrosion and rust. Check the manufacturer's recommendations and review the options available at Brownell Boat Stands for boat dollies, stands, keel stands, and other support options designed for use with your vessel.
Step Three: Engine and Fuel Tank
The next phase is to winterize the engine and the fuel tank, as the engine will be dormant for several months. Even if you have a short winter season, it's still a good idea to take this step to protect your boat engine. Don't assume how to do it. Always check the owner's manual before doing any work on the pontoon boat's engine. Start by draining out all of the water and coolant from the engine whether it is an outboard or an inboard engine. Replace the fluids with a specialized antifreeze product that the manufacturer recommends for your type of engine and winterizing purposes. Spray fogging oil into the carburetor and spark plug holes, according to the instructions on the package. This will help to lubricate the cylinders and protect them during the cold and freezing temperatures.
Fuel stabilizers should be used to protect any ethanol fuel in a tank that is about three-quarters of the way full to prevent phase separation. All of this is with the idea of eliminating buildup at the fuel pickup and stopping moisture from occurring and causing damage due to condensation. Once again, it is important to note that you should consult your owner's manual before doing anything with the engine of your pontoon boat. Remove and store the batteries in a dry environment at about average room temperature. The battery should be fully charged and tested before going into storage.
Trust Brownell Boat Stands & Products
When you work on or store your pontoon boat, make sure to use boat dollies, and top quality boat stands from Brownell. Our online Boat Stand Selector and other Proper Use guides and tools can help answer any questions that you might have about using our products. Check out our steel pontoon boat dolly, TLC pads, trailering components, and other options that you can use with your vessel. To find an authorized dealer near you, give us a call at 508-758-3671.